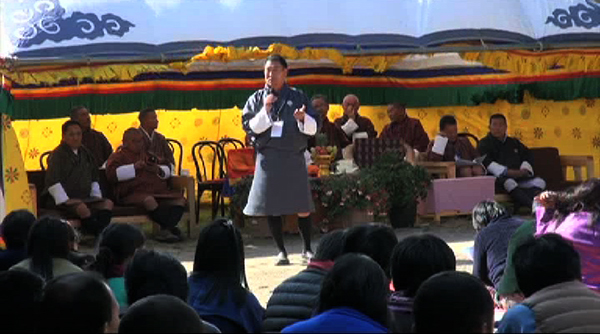 The President of Druk Phuensum Tshogpa (DPT) said the recent surge in fuel prices has prompted a widespread speculation that the prices of fuel and other imports from India could see further hikes if his party comes to power.
Pema Gyamtsho, who has been campaigning in his home district Bumthang, urged the voters not to believe such rumours and speculations.
He also said the talks concerning DPT vis-à-vis Bhutan-India relation are also not true. He urged the voters to be wary of people spreading such false information and report them to concerned authorities.
"Some of the places I visited were rife with rumours and speculation that DPT coming to power would put a strain our country's relation with India and lead to an increase in the prices of goods and commodities," Pema Gyamtsho said.
"For example, they've been saying the price of fuel would increase. Now, fuel prices are going up because of the increase in prices from the source itself. Even in India, the fuel prices are going up and naturally there would be a rise in fuel prices in our country. So, it's got nothing to do with Indo-Bhutan relations at all," he explained.
Fuel prices in the country have hit record-high rates in the recent months amidst increasing international crude oil prices and shrinking Indian rupee value against the US dollar.
Pema Gyamtsho also highlighted the party's vision of achieving national economic self-reliance by 2025, revamping and executing hydropower projects and ensuring employment for all among other pledges.
During the meeting with the people and the business community of Chamkhar, the DPT president said his party would work towards developing Chamkhar town into a model town in the Himalayan region.
The party will campaign in Lhuentse starting tomorrow.