Bhutanese youths allege of being duped by Indian company
Sonam Pem, Thimphu

Oct 5, 2018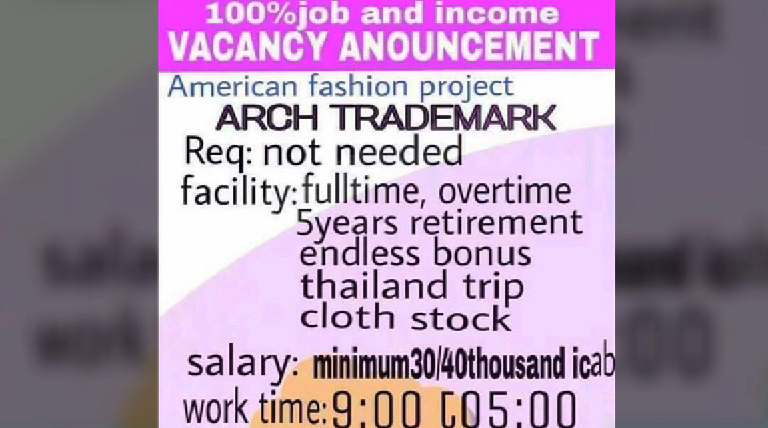 A group of Bhutanese youth says they have been duped by an Indian fashion garment company based in Siliguri, West Bengal. 
The company called Arch Trademark Private Limited, they say, is involved in a pyramid scheme business and lures the victims through Facebook by its participating members.
Pyramid scheme, commonly known as pyramid scams, is a business model that recruits members via a promise of payments or services for enrolling others into the scheme, rather than supplying investments or sale of products or services.
The scheme is thought to have recruited more than 600 Bhutanese youths since its launch last year.
A group of them left Siliguri after they realised the scheme was a scam. They spoke to BBS but under anonymity. They say they have been warned not to speak up.
They say the company makes the youths pay Nu 7000 as registration fee after they reach Siliguri.
The alleged victims who spoke to BBS say while none of them knows the Indian man who launched the scheme, a young Bhutanese man is part of it and does most of the recruitments with the help of a young Bhutanese woman. The two are also who train new recruits at a seven-day training.
The scheme, they say, targets youths who dropped out of school after 10th and 12th grade.  This is a group that is largely unemployed and easily influenced.
"I came to know about the scheme through a classmate while chatting on Facebook. The first thing he asked me was if I have a job. He asked me not to waste time and come to Siliguri to work for the fashion garment company. He said the company pays Rs 20,000 or more in monthly salary," a young girl said.
"The bleak job market in the country drives us to make decisions hastily. When they said it's a garment company, I thought it would be a job of a salesperson. They come to get us till Phuentsholing from where we either take a bus or train to Siliguri. When we got there, it was nothing like they promised. They had rented an apartment and turned that into a hostel. All stayed in cramped rooms with no beds and food," she added.
The victims were promised high paid jobs following the seven-day training in Siliguri. But at the training, they are taught how to attract more clients to earn money from the scheme.
"They taught us percentage calculation skills and how to attract more people by using it. They invite Indians to motivate us to stay there. After the training, they tell us we have to attract at least five people in order to get to the highest position. The seven-day training is all about how to entice people through Facebook," said another alleged victim.
When members fail to bring in more clients, they are asked to wait for class ten and twelve results to get more people into the scheme.