Bhutan bounces back, defeats China by nine wickets
Sherub Dorji, Thimphu

Oct 4, 2018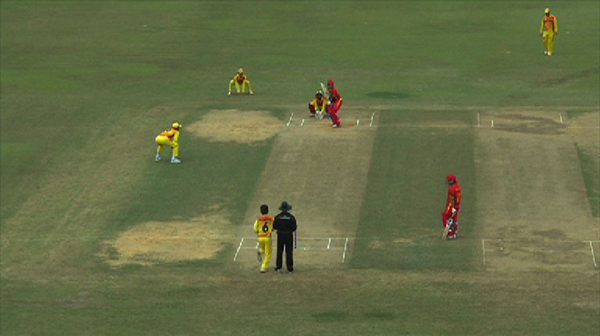 The Bhutanese cricket team bounced back from yesterday's loss to Malaysia by crushing China to a nine-wicket defeat today.
In the ongoing ICC World T20 Asia B Qualifier, Bhutan wrapped up the match under two hours, keeping the undefeated run against China at the senior level intact.
It was a sunny day at the Kinrara Academy Oval in Kuala Lumpur, Malaysia. Before play started and followed by a small pep talk from the captain, four debutants in the team were handed their national caps by the senior players.
China won the toss and opted to bat first, a decision they ended up regretting.
Bhutan kept getting wickets in virtually every over before bowling out China for just 45 runs. The score could have been far worse for China had Bhutan not conceded 31 extras.
In reply, Bhutan wasted no time in chasing down the total. A quick-fire 30 runs from Jigme Singye meant Bhutan wrapped up the match in 3.5 overs.
For a comfortable nine wickets win for Bhutan, Jigme Singye was awarded the player of the match for his exploits with both bat and ball.
"Our main target today was to win against them with a good net run rate. If we had won the toss, we planned to field first so that we could chase the target quickly which we did. Each and every one is backing up and trying hard to continue the efforts we put in against China," Sanjeevan Raj Gurung, one of the Bhutanese cricketers, players said.
"From today, all the matches are very important. It's all  must-win games. We have one day rest tomorrow and then we play Thailand whom we have already beaten in February. So, we are not overconfident but we have to do that same thing we did in February. I think we have a chance to win all the matches. The toughest team that we have to face is Nepal. So, the boys are all prepared for that," Manoj Adhikari, another Bhutanese player, said.
Four more matches remain and Bhutan hopes to win at least three more matches to keep their hopes of reaching the 2020 ICC World Twenty20 Cup alive.
Up next on Saturday, Bhutan will take on Thailand.