Bad road prevents Jeri-Lemi farmers from taking potatoes to auction yard
Sonam Darjay, Trashigang

Oct 1, 2018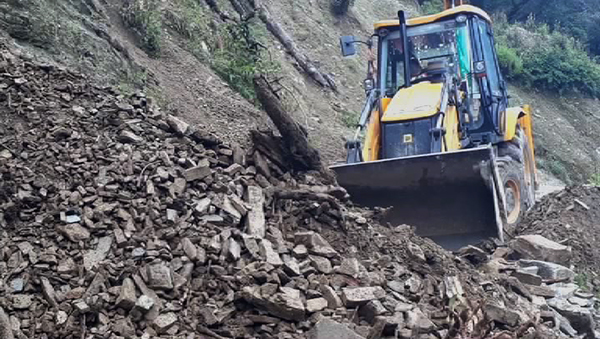 Potato is the main cash crop of the people of Jiri-Lemi of Khaling Gewog in Trashigang. This time, they are worried they may not be able to take their potatoes to the auction yard.
The poor condition of their farm road is preventing them from taking the crop to the auction yard in Samdrup Jongkhar.
Frequent landslides have caused a roadblock and left the road narrow and slippery at the block site. Only boleros can pass through.
People have been volunteering to clear and widen the road so that trucks can come and go.
"Some of the potatoes have gone bad already. I am waiting for the block to be cleared," Pema Choden from Lemi said.
"The area remains blocked almost every year. Most of us are yet to sell our potatoes. The works to clear the block are ongoing.  If we keep the potatoes here for a longer period then insects will attack it. All our hard work will go to waste," Sonam, another farmer from Lemi, said.
The block could not have come at a worse time.
Farmers from other parts of the country are enjoying good prices this time at the auction yards, while the potatoes in Jiri-Lemi are lying in the storage rooms.
"The potato price fluctuates every year. This time, we heard the price is good. So, we volunteered to clear the block as soon as possible so that we can take our potatoes for sale before it is too late," Namgay Lhendup said.
Khaling Gup said the block was to be cleared immediately but the continuous rainfall would have made the effort futile.
After the weather improved, the gewog administration had deployed a back-hoe to clear the block. But much to the dismay of the villagers, the machine broke down recently.
Meanwhile, farmers have started spraying insecticides.
Lemi village has around 45 households. Each household produces at least 30 bags of potatoes.