DPT promises to build southern internal highway
Karma Wangdi, Sarpang

Sep 28, 2018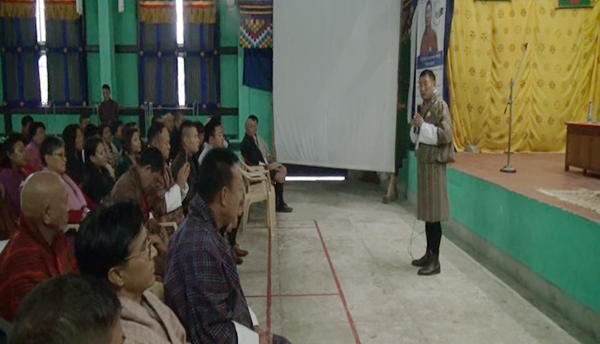 The DPT President Pema Gyamtsho promised the people of Gelegphu to revive the plan to build a southern internal highway if his party gets to form the next government.
The DPT president arrived in Gelegphu last evening.
He pledged to build an internal highway from Taschichhoeling in Samtse to Jomotshangkha in Samdrup Jongkhar. The Mao river bridge will come along with the project, he said.
"The project was included in the 11th Five-year Plan and also allocated budget for it, but the works could not be started. We will revive the project, which includes the Moa river bridge," he told the gathering at the Gelegphu Lower Secondary School.
He also urged the people not to leave up to the parties to decide where to take the country. He asked them to cast their votes carefully. "Vote buying or selling is corruption," he said.
"You know where and how to vote. It's important to vote for the party of your choice."
DPT President Pema Gyamtsho also pledged to transform Gelegphu into a commercial hub and boost its plan to become a sporting centre.
He also said his party aims to eradicate poverty and make the country self-reliant by 2025.