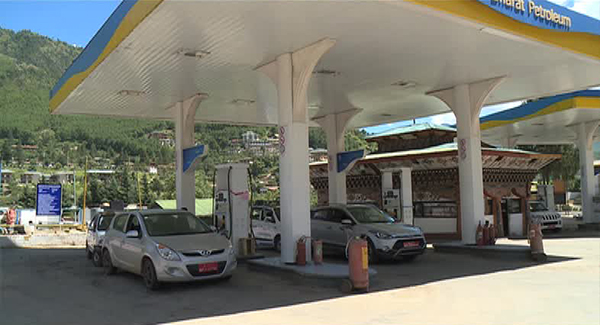 The fuel prices yet again witnessed a fresh hike on Monday morning with petrol and diesel being sold at Nu 69.07 and 68.12 per litre respectively in the capital. These are the highest rates since July 2014.
The prices of fuel increased over 20 times since the benefit of the goods and services tax in India was passed on to the Bhutanese consumers in November last year.
While there has been a continuous hike in the fuel price in India, in Bhutan the fuel prices are hiked twice a month. Since May this year, fuel prices rose by almost Nu 10.
The fuel price hike across India has been attributed to increasing international crude oil prices and shrinking value of the Indian rupee against the US dollar.
In Phuentshogling, diesel is now being sold at Nu 66.16 ngultrum per litre, an increase by over three ngultrum. The price of petrol increased by Nu 2.72 and is now being sold at Nu 66.89.
 Over in Trashigang, a litre of diesel is now costlier than petrol. Diesel and petrol are now sold at Nu 64.85 and 64.63 respectively.
In Trongsa too, fuel prices saw a sharp increase. Diesel is being sold at Nu 66.08 and petrol at Nu 65.98 per litre.
However, the constant increase in fuel prices since May haven't really impacted the inflation rate. Since reaching 2.62 per cent in May, the inflation rate has dropped to 2.01 per cent in July.
This means that prices of food and non-food items are increasing at a slower speed. Figures for August and September are yet to be released by the National Statistics Bureau (NSB).
Meanwhile, the increase in fuel prices in India is showing no signs of slowing down.
The next fuel hike is expected to be at the beginning of next month.