2018 NA primary round records voter turnout of 66.36%
Phub Gyem, Thimphu

Sep 16, 2018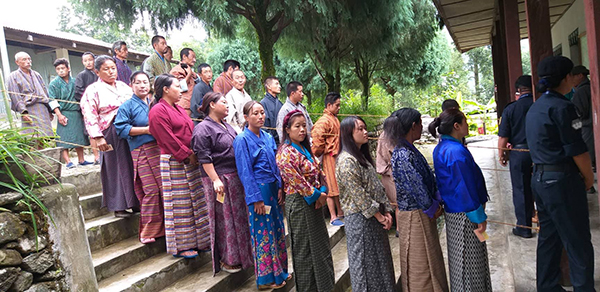 The primary round of the Third Parliamentary National Assembly elections held yesterday saw a voter turnout of 66.36 per cent. This is an increase of 12 per cent from the 2013 NA primary round, which recorded a voter turnout of 55 per cent.
Of the 438,663 total registered voters, close to 42 per cent (182,518) voted through Electronic Voting Machines (EVMs), while nearly 25 per cent had opted for postal ballots.
More than 147,000 registered voters did not cast their votes.
On the poll day yesterday, the number of women voters was about 7,000 more than the male voters.  A total of 94,566 women voters turned out to cast their votes in person through EVMs against 87,952 male voters.
A total of 52,504 female and 56,076 male voters have voted through postal ballots and facilitation booths
Samtse saw the highest number of voters followed by Trashigang district wise.
In Samtse, the district with the second highest number of constituencies, 21,340 voters went to cast their votes on the poll day. There are over 47,360 registered voters in Samtse.
Trashigang, a district that has five constituencies, the highest, saw more than 15,426 voters come to polling stations yesterday. The dzongkhag has 47,614 total registered voters.
And Gasa, a dzongkhag with the lowest number of registered voters, saw the lowest voter turnout.