Samchholing's green tea business flourishes
Passang, Trongsa

Aug 16, 2018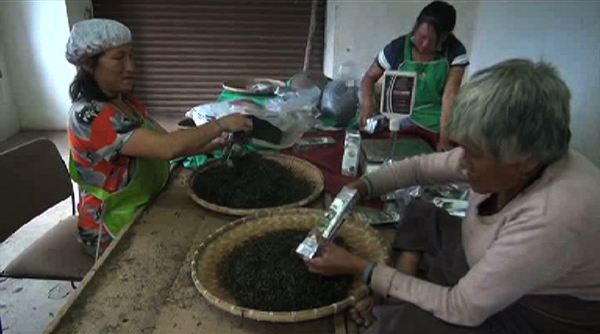 Green tea plantation is becoming a lucrative business for the people of Samcholing in Trongsa. The Samchholing Green Tea Cooperative says with the yield getting better by the year, the business is picking up well.
The Samchholing Green Tea Cooperative has 27 members.
Last year, they produced about 8,000 packets of green tea. This year, they are expecting to produce about 2,000 packets more. A packet of green tea, which weighs 60 grams, is sold at Nu 150.
"I made about Nu 50,000 last year and this year I am expecting to earn about Nu 60, 000," Tshewang Lhamo, one of the members, said.
It takes three years to raise the plant and is expected to yield for about 20 years. The harvesting season starts from April and ends in September.
The members said the yield from each plant increases annually. This year, the members say, each plant gave them 20 to 30 packets of tea more from the previous years.
The cooperative carries out processing and packaging from their three-storied green tea house. They market their green tea in other dzongkhags in the country.
Also, the farmers say cultivating the tea is much easier than other crops. "We do not have to worry about wild animals damaging the plants," Tshewang Lhamo said.
The local elders say the green tea was first brought to Bhutan by the Second Druk Gyalpo.
Scientifically known as Camellia Sinensis, it was first said to have been planted near the Samchholing palace. It was more for personal use then.
Today, there are about 47 acres of land in Drakteng Gewog under green tea plantation.