Layaps do brisk business in Lunana
Sherub Dorji, Thimphu

Jul 25, 2018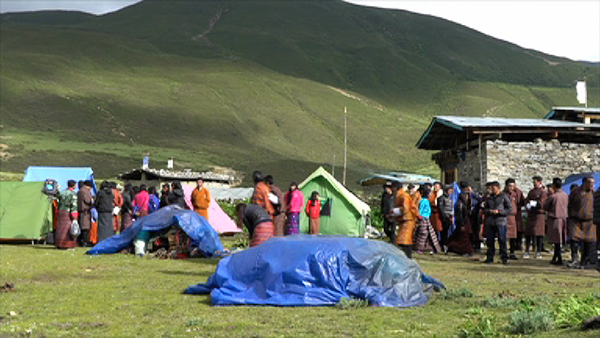 Every year, when the cordyceps season nears end, some Layaps trek all the way up to Lunana with their horses laden with various essentials goods. They stop at Tenchoe, Lunana's uppermost village, and pitch tents from where the goods they came with are sold to the Lunaps.
From green chilies to milk powder, eggs and instant noodles, everything sells like hot cakes.
The business was particularly good this time. Thanks to His Majesty's recent visit to Lunana that brought almost all Lunaps to Tenchoe.
There were about six shopkeepers this time. Some of them have been there since the end of May.
"The business was better this time than the previous years. We have been doing this for several years now," Namgay Dorji, one of the shopkeepers, said.
"It has been over a month now since we got here. We sell oil, milk powder, rice, clothes, shoes, sugar and everything," Wangchuk, another shopkeeper, said.
"Everything sells fast. We are doing brisk business. I want to bring more goods next year," Lhamo said.
The commodities are priced exorbitantly.
A kilogram of milk powder costs over Nu 400 more. A jar of centre fruit chewing gum, which costs Nu 180 elsewhere, is sold at Nu 380 in Tenchoe.
Chilies can cost up to a staggering Nu 1,500 a kilogram.
Despite the outrageous price, Lunaps buy everything. For the people of Lunana, one of the most remote communities in the country, paying such hefty prices may be painful but nothing unusual.
It seems like a far better deal than travelling all the way to Gasa for shopping. Tencho is officially 11 days walk from Gasa.
Also, an improved income from cordycpes means Lunaps can afford to pay the prices, which otherwise could easily burn a hole in pocket.
Their only concern, at least as of now, is the wastes that are left behind.
"They come every year and we are grateful to them but sometimes they leave behind heaps of trash and we have to do all the cleaning up. This is a problem," Gem Tshering from Tshojong village said.
This year alone saw about 200 horse loads of goods transported from Laya to Lunana. Shopkeepers use helicopter service to transport fresh vegetables and eggs.