Documentary on snowman trek by an American film maker to hit theatres soon
Phub Gyem, Thimphu

May 8, 2018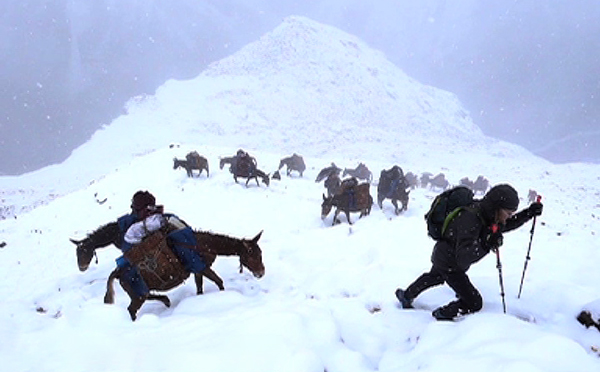 The Snowman Trek, a documentary shot in Bhutan during the 2016 Snowmen Trek, captures the experiences of what it is like running the mountain trails in Bhutan.
The film by Ben Clark, who is an American mountaineer and film maker, is all set for its release in some 400 theatres across America next week.
Calling it a history made in the himalayan kingdom, the 1 hour 45 minute film shows how Ben Clark's team, made up of professional ultra-runners, completed the 189-mile Snowman Trek in just 15 days.
It usually takes runners up to a month to complete the trek. The film describes the Snowman Trek, which spans across 11 mountain passes, some as high as 5,000 metres above the sea level, as world's hardest trek.
The team featured in the film was among the 175 trekkers who completed the Snowman Trek in 2016.
Speaking to BBS on Skype from New York City, mountaineer & film maker Ben Clark said he is grateful for the experience. "To be able to go to those places is really something I feel very lucky and very grateful for," he said.
He added that the film will promote Bhutan in America. "I really hope that this film will show people in America and across the globe how great it is to visit Bhutan and make friends. Bhutan has amazing mountains and the people are special and wonderful."
The Tourism Council of Bhutan (TCB) too thinks the film will help promote Bhutan as a trekking destination. TCB, in fact, is already looking forward to seeing a rise in the number of tourists with the release of The Snowman Trek in American theatres.
"They have made a wonderful movie out of it; I have seen the trailer," Damcho Rinzin, TCB's Media Spokesperson said.
"The film will give a glimpse of what you can experience especially when you go trekking in Bhutan. In the movie, they have said it is the world's toughest trek and this means a lot to Bhutan and the tourism industry. It is going to be a huge promotion for Bhutan and we are very excited."
Everest: The Other Side is another film shot in the himalayas directed by Ben Clark in 2003.
"It fascinates me and makes me really excited to continue to go to different places, taking camera because this is the best way to talk about the beauty of the places I visit," Ben Clark said.