Live musical concert to celebrate Daw Dangbi Losar
Sonam Choden, Thimphu

Feb 12, 2018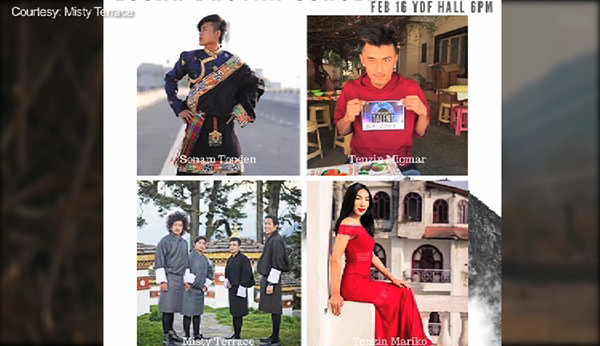 A group of three Tibetan artists from India and Nepal, led by Misty Terrace, a popular local band, will stage three hours of live musical concert to celebrate and usher in the New Lunar Year.
The concert will be held in Thimphu on the night of February 16 as the country celebrates Daw Dangbi Losar or start of the Lunar New Year.
Tandin Wangchuk of Misty Terrace is organizing the concert in collaboration with the Himalayan Cultural Centre.
The tickets for the concert are priced between Nu 400 to Nu 800. Part of the proceeds from the concert will be donated to a needy disability school in Thimphu.
Tandin Wangchuk and group are practicing for what is expected to be a great night of fun and revelry for the fans. The popular local singer said losar is one of the biggest events in the Bhutanese traditional calendar and that music is an integral part of losar celebrations.
"These artists coming from India and Nepal have a huge fan base in Bhutan," Tandin Wangchuk said. "It is a get together of very famous voices of our region and performing songs that people listen to in our region."
Of the three Tibetan artists, one is a well known young Tibetan singer and song writer Sonam Tobden. He is known for covers he performed of Hindi, English and Nepali songs. All his covers made big waves on the internet, earning him a huge fan following and making him a social media sensation.
He will be accompanied by Tenzin Marikor and Tenzin Migmar, the two most admired Tibetan dancers expected to enthrall the audience.
Tenzin Marikor is a familiar face at live shows across India, while Tenzin Migmar is the winner of Tibet's Got Talent 2017.
"What makes it special is that the people who are at the forefront of modern music industry in these regions are coming together," Tandin Wangchuk said.
"Looking at the playlist they sent us, I think it's going to be a great night for those attending the concert. All of the songs in the huge playlist they sent us are popular in Bhutan."
The concert, Tandin Wangchuk, added is being organized on public demand.