Bhutan's team to be deployed in Nepal's Nuwakot District
Apr 27, 2015
Rescue team from Bhutan to support Nepal's relief effort has been posted in Nuwakot District, about 80 kilometers from Nepal's capital, Kathmandu. The team reached the site at around 11 this morning.
Our reporter Sonam Wangdi, who is in Nepal, says camps are being set up while the medical team has already started examining the patients. Nuwakot is one of the worst-hit districts by the earthquake.
Speaking to BBS, health minister, Tandin Wangchuk had said Bhutan's rescue team was to be deployed at Lamjong District which was the epicentre of Nepal's earthquake. However, there was a change in the plan.

"The need is more there," said Lyonpo. He said the team is prepared and confident that they will be able to deliver. The minster also said they have enough medicine, ration and equipment to last the team two weeks.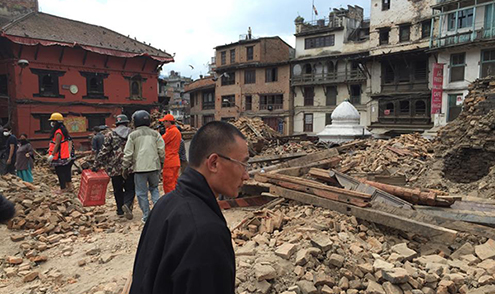 Lyonpo, however said he cannot say how long will the team be deployed in Nepal. "I feel we should be keeping them there as long as their service is required."
Lyonpo said the team should be able to replenish their ration in a few days time as Nepal gets back to its feet. It not, he said, it will be supplied from Bhutan.
The minister flew back to Bhutan along with the Prime Minister and other officials, this evening.
They had flown to Nepal this morning to convey condolences and lend a helping hand.
The Prime Minister met Nepal's Prime Minister, Sushil Koirala. Health minister described the meeting of two leaders as "emotional".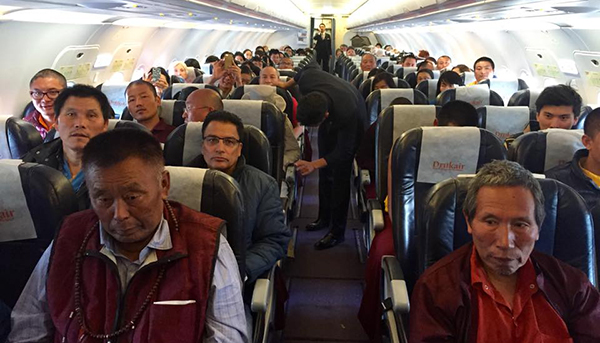 Nepal's Prime Minister had told the Prime Minister that they are grateful and touched by Lyonchhen and Bhutan team's personal visit to Kathmandu.
"The affection and commitment to Nepal by His Majesty the King, RGoB and the people of Bhutan is great inspiration which will be remembered by the people of Nepal and carried in their heart for long time to come," said the Nepal's Prime Minister.
Lyonchhen had also earlier tweeted saying there were no stranded Bhutanese left at Kathmandu's Tribhuvan airport.
Bhutan airlines brought back 33 Bhutanese and Drukair 221. The second Drukair flight brought back 104 Bhutanese today.
The 7.9 magnitude earthquake, which struck Nepal on Saturday, has devastated the country.