Health professionals contesting elections barred from practice during election period
Phub Gyem, Thimphu

Jul 13, 2018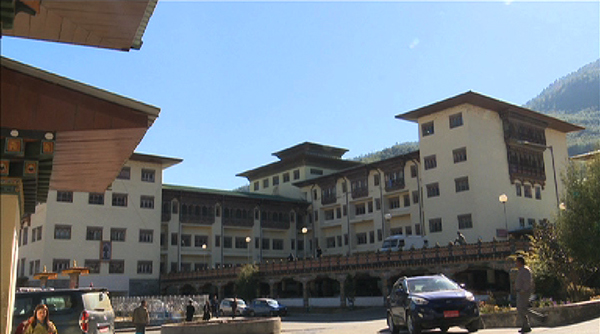 The Bhutan Medical and Health Council (BMHC) in April issued a notification stating former medical and health professionals contesting the upcoming election cannot practice medicine until the end of the election period.
The notice says their registration with the council or medical license remains suspended until the elections are over.
This has left some of the affected former doctors fuming and others supporting the move.
The notice also states doctors wishing to practice after elections will have to seek clearance from the Election Commission of Bhutan (ECB) to revoke the suspension of their license.
Dr Tandi of Druk Nyamrup Tshogpa (DNT) and Dr Samdrup of Druk Phuensum Tshogpa (DPT) said BMHC has no authority to impose such decisions on them.
"If other professionals who are in politics, such as lawyers giving legal advice and engineers helping voters with their architectural plans, can continue to practice their profession and is not being seen as a way to bribe voters, I don't understand how doctors or medical people can be stopped from practicing their profession," Dr Tandi said.
Dr Samdrup said the BMHC Act 2002 is mandated to ensure ethical conduct of all registered practitioners. Nowhere is it mentioned that registered practitioners joining politics is illegal.
"BMHC has no right to deregister unless on ethical or disciplinary ground. Joining politics doesn't amount to breaching or inviting disciplinary action," he said.
Dr Samdrup added BHMC's decision is a direct infringement on the right of the citizen to practice lawful profession. He added there is no clause in the election law that says doctors have to give up being doctor to join politics.
The BMHC agreed that there are no provisions in the BMHC Act 2002 that governs such issues.
"We had a complaint, which was referred by the Ministry of Health saying that one of the doctors, who is a candidate for a political party, was doing door to door patient treatment. If we go strictly by the council act and the regulation, there are no provisions that prohibit such practices," the council's Registrar General, Sonam Dorji, said.
He added the notice was issued in keeping with the ECB's political party rules. He also shared that the ECB was consulted prior to issuing the notice.
"Because it was of a political party and of a candidate, we referred the case to ECB to see how they look at the issue."
He, however, added the doctors can practice medicine in emergency situations.
Meanwhile, two other former doctors who are contesting the upcoming election said the suspension is fine as long as it applies only during the election period.
"I talked to the BMHC and was told the notice is issued as an interim measure to provide level playing field for the political candidates. If that's the case, I have no problem with it," Dr Lobzang Dorji of the People's Democratic Party (PDP) said.
"But, they also told us, if it is an emergency case, doctors can use their discretion to decide whether or not to see the patient. But we cannot call many people and see them as this will lead to unfair practice leading to getting more votes for the doctors."
"It's necessary to suspend any commercial license once a proprietor decides to contest an election," Dr Lekey Dorji of Bhutan Kuen-Nyam Party (BKP) said.
"Any candidate doctor treating a patient during election period will result in influencing voters. Hence, I fully support the suspension during the election period. But after the election, an individual even if elected, can provide medical services as an individual medical professional under the BMHC's license. Hence, there shouldn't be suspension. But if an elected doctor practices with profit motive, the suspension should apply."