Punakha schools' winning streak at National School Athletics Meet
Passang Dorji, Thimphu

Jul 6, 2018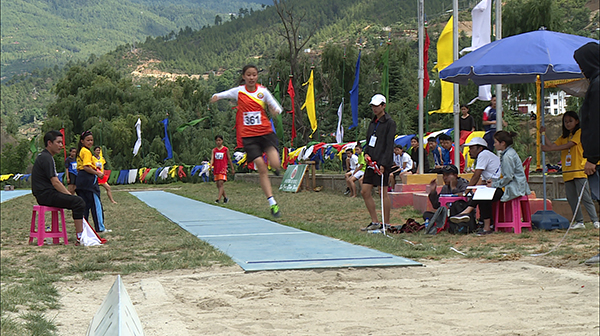 After adding four more gold medals to the teams' overall achievement today, schools of Punakha district are continuing to dominate the ongoing 15th National School Athletics Meet.
The finals for the remaining 8 track events for both girls and boys will be played tomorrow.
Today's final events were 200 metre race, triple jump, high jump, discus and shot put throws for both men and women.
After failing to make her name in the top-spot of the triple jump event last year, Phuntsho Om of Ugyen Academy came back stronger this time. She made a jump of 9.2 metres long, which confirmed her first gold medal.
"This is the second time that I am taking part in athletics meet. Last year I couldn't qualify for the finals. But this time I have worked hard and am happy that I managed to win the gold medal," shared Phuntsho.
Dorji Tshering of Ugyen Academy participated in the 200 metre race for the first time. His pure pace and determination to win the race pleased everyone. He came first by completing the race in just 23 seconds.
"Not many are interested since they think athletics is boring and all about running. Athletics is an individual game and we have to stay clean all the time and this helps us to stay away from drugs," said Dorji.
Meanwhile, Sonam Wangchuk of Thimphu Dzongkhag broke the current national record of 1.78 metres in high jump and had set a new national record of 1.80 metres.
Eighteen final events of throws, jumps and track events have been held successfully so far. The remaining events will feature students competing for the gold medal in 100 metres, 400 metres, 800 metres and the relay race. The five-day event ends tomorrow.