Trade deficit stands at Nu 29.7bn
Phub Gyem & Sonam Pem, Thimphu

Jun 30, 2018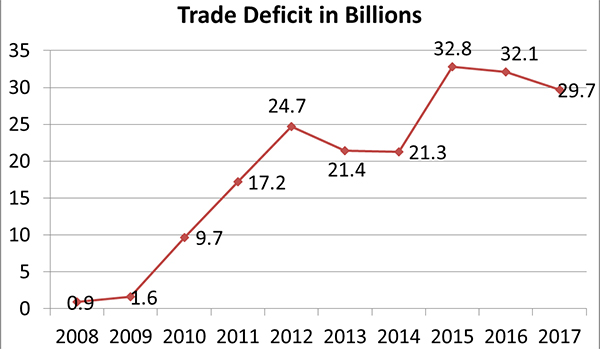 Bhutan's trade deficit has been increasing over the years. It hit Nu 29.7bn in 2017, up from Nu 24.7bn in 2012. The growing trade deficit, the prime minister, said is a cause for concern.
As per Bhutan Trade Statistics, from a mere Nu 1bn in 2008, the country's trade deficit soared to Nu 24.7bn by 2012. This was the highest deficit recorded in the 10th Five Year Plan.
The figure dropped to Nu 21bn in the following two years only to climb back and hit an all-time high of Nu 32bn in 2015 and 2016
During that period, Bhutan's top imports included diesel and choppers besides rice and other food items.
The trade deficit went down to 29.7 billion in 2017 as Bhutan increased its imports. The year saw Bhutan export goods worth Nu 37.3bn.
Export of electricity played a big part in narrowing the trade deficit. The other exports include silicon products and other mineral based products.
Prime Minister Dasho Tshering Tobgay, while presenting the State of the Nation Report early in the week, said the government hopes to see a decrease in the trade deficit with the renewal of India Bhutan Agreement on Trade, Commerce and Transit in 2016.
"The new trade agreement that came into force from 2017 has additional provisions to further enhance trade and investment between the two countries through trade facilitation by improving procedures, cutting down on documentation and adding additional exit/entry points for Bhutan's trade with other countries," he added
Moreover, with the commissioning of many hydropower projects and a few of them nearing completion already, the government expects trade deficit to dip further.