Wood-based industries raise concerns over timber shortage
Kinley Dem, Thimphu

Jun 29, 2018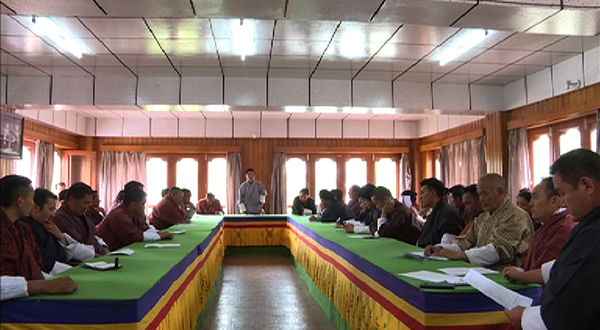 The Association of Wood Based Industries (AWBI) rasied concerns over the shortage of timber in the market at their annual general meeting held recently.
The AWBI blames the shortage on the Natural Resources Development Corporation Limited (NRDCL). They say the NRDCL doesn't extract adequate timber.
The president of AWBI, Rinchen Khandu, said that the NRDCL has to extract around 1.9 million timber in a year, which comes to around 70,000 in a month. But he said the corporation have been logging only around 30,000 timber monthly.
The saw millers say the NRDCL should solely focus on timber logging and let them do the timber distribution works. Since April last year, NRDCL and saw millers have been handling timber distribution jointly.
"They spend a lot of money on buying sawmill and machines. If they buy cable cranes to extract timber rather than spending money on sawmill, there won't be this issue," AWBI President Rinchen Khandu said.
However, the NRDCL says due to weather condition, the corporation has not been able to extract timber in the past few months.
"If we look at the Central and Western Bhutan, in the first three months of January, February and March, we are not able to carry out our operation fully,"Sonam Wangchuk, the Chief Executive Officer of NRDCL, said.
"It was partly because the areas are located at very high elevation where the weather condition has a lot of limiting factors. But as we progress from April, our production increases."
The CEO added they are trying to deploy enough cable cranes to extract timber but are faced with financial and operational challenges.
Today, there are around 130 saw mills in the country.