Startup centre opens in Changzamtog
Pema Seldon Tshering, Thimphu

Jun 26, 2018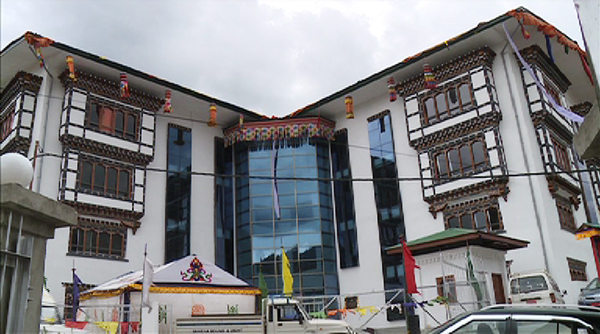 The startup centre is an initiative of the Department of Cottage and Small Industry of the Ministry of Economic Affairs. The centre will provide an enabling space to aspiring entrepreneurs to shape and develop their business ideas.
The four-storey centre has 28 business incubation units.
Aspiring entrepreneurs can use the facility for two years to set up and run their businesses from. After the incubation period, new startups will take over the spaces.
"The main purpose of establishing the centre is to help the young entrepreneurs because even if they have business ideas, they don't have a place to start their business," Tandin Tshering, the Director General, of the Department of Cottage and Small Industry, said.
"They also lack support and business development services like mentoring and tie-ups with the financial institutions, licensing, project report preparation and marketing. They require a host of business development services. So, this is the place where we will bring in new entrepreneurs with good business ideas."
The department has already chosen 16 start-ups.
"We have certain criteria. Whether the project is production and manufacturing or not is the core area we are focusing on. The second thing is whether their project is readily available because if they have concrete project proposals, it will be easier for them to take it on from there," Director General Tandin Tshering said.
He added they are also focusing on giving opportunities to unemployed youth and young women entrepreneurs.
Phuntsho Wangmo, an aspiring entrepreneur, said space is a major challenge for them. "It's very difficult to launch a new business without a proper place, so I am grateful to the department for providing us a space at the centre," she said.
The centre was constructed at a cost of Nu 67.5 M. It was funded by the Indian government.