Rice farmers of Dekiling Gewog anticipate switching over to direct seeding technology
Karma Wangdi, Sarpang

Jun 21, 2018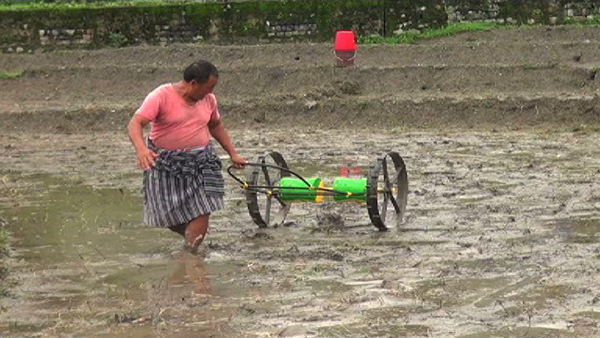 Farmers of Dekiling Gewog under Sarpang District are looking forward to adopt direct seeding technology for rice cultivation from next paddy transplantation season.  
The technology which includes manual drum seeder caught the fancy of farmers following its recent trial run by officials of Agriculture Machinery Centre (AMC) based in Samtenling Gewog.
During the trial run, AMC officials demonstrated the direct sowing of paddy seeds by using drum seeder on an area of 50 decimals in Dekiling Gewog. Unlike traditional method of paddy farming where water requirement is high, the direct seeding technology requires less water. It is also less labour-intensive.
"I am glad the drum seeder will reduce drudgery in paddy farming which includes plough of farms, sow seed and then transplanting sapling," said one of the farmers, Pelzang.
Others felt this technology will revolutionise paddy cultivation. The AMC said agriculture in Bhutan is plagued by labour scarcity due to rural-urban migration. So, the drum seeder technology is expected to overcome the problem.
"We don't get adequate manpower during the paddy transplantation season. We leant that the drum seeder has been successful in foreign countries, hence we thought of launching it in Bhutan as well," said Ugyen Drukpa, Regional Manager of AMC.
The AMC is also planning to introduce Direct Seeding Technology paddy farming in other gewogs of Sarpang.