Dragon Strikers win BCCB T20 Cup 2018
Sonam Choden, Thimphu

Jun 18, 2018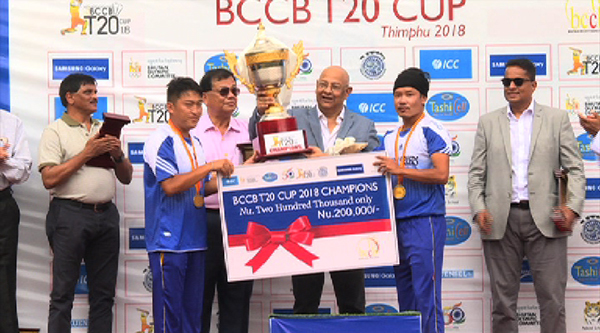 In what was a nail-biting final, Dragon Strikers edged Takin City in the final ball of the match to win this year's BCCB T20 Cup, yesterday in the capital.
Dragon Strikers entered the final match having already beaten Takin City during the super four round, last week. Takin City on the other hand, had to fight their way into the final.
Dragon Strikers' captain, Kumar Subba, won the toss and elected to bowl first on a synthetic pitch which was soaked by the overnight rain. The decision was backed by some disciplined bowling. Kinley Penjor was on the mark in his second over, removing Sagar and Nausad in consecutive deliveries.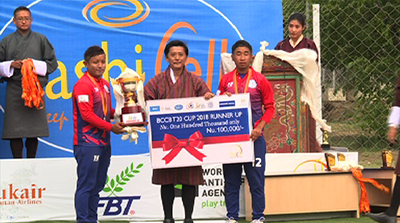 At one point, with wickets falling regularly, Takin City was looking at a below 100 total. That was when their Indian player, Biswadeep, was dropped while he was batting on six runs. That proved costly for Dragon Strikers as Biswadeep went on to add 47 runs from just 19 balls. Takin City managed to put on a respectable target of 155 runs.
In reply, Dragon Strikers started strong, notching up their first 50 runs in just under six overs. From then on, Takin City pulled things back, letting their opponents score just in ones and twos.
The chase boiled down to the final over of the match. Dragon Strikers were six wickets down need 18 runs to win from the final six balls. Dragon Strikers' Indian player, Bikash, managed 14 runs of five balls leaving four runs to win from the last ball. With tensions broiling, Bikash hit a six of the last ball to win the tournament for Dragon Strikers. A second T20 tournament win on the trot for Dragon Strikers.
The acting secretary of the Board of Control for Cricket in India, Amitabh Choudhary also witnessed the final. At the presentation ceremony, individual awards for the best bowler, wicket keeper, batsman and highest sixes were awarded. Mikyo Dorji from team SKD All Stars was adjudged the emerging player of the tournament, while Takin City's Tandin Wangchuk took away the most valuable player award.
The winner was awarded ngultrum 200,000 along with medals and trophies. The runner up team, Takin City, was given ngultrum 100,000 as prize money along with medals and trophy. A total of 15 teams participated in the annual tournament, this year.