Their Majesties visit Gaselo in Wangdue Phodrang
Sherub Dorji, Wangdue Phodrang

Jun 13, 2018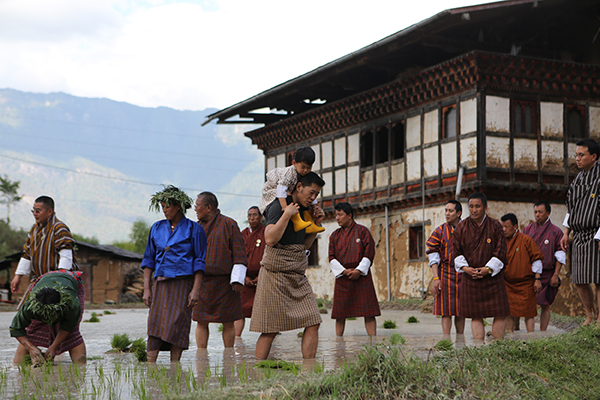 His Majesty The King along with Her Majesty The Gyaltsuen and His Royal Highness The Gyalsey visited Gaselo in Wangdue Phodrang on Monday.
Around this time of the year, farmers across the country are busy transplanting paddy. Similarly, farmers of Gaselo are also at work in their paddy fields.
Locals say last year has been particularly good in terms of rice yield. The same is expected this year despite rainfall not favouring them.
A group of women were singing and working their way through the paddy plantation in Changkha village of Gasetshogom Gewog.
As the evening sun swept across the village, these women were greeted to a surprise visit by His Majesty The King.
The surprise has filled these women with joy and a hope for bountiful yield this year.
"I never even dreamt of His Majesty setting foot in our village. Today, on a day like this, not just His Majesty but even Gyaltsuen and Gyalsey visited us. His Majesty came into our paddy field to interact with us," Yangka, one of the women said.
"We are so happy and blessed that now we are expecting a better yield this year."
"Today, I enjoyed a lot and I am filled with happiness. To be able to meet with His Majesty is a different feeling," Rinzin Dem, another woman said.
On Monday morning, enroute to Gaselo, Their Majesties offered prayers at the Martshig Potog lhakhang, a 15th century community temple, in Gasetshogom Gewog. The temple houses a sacred statue of Buddha Sakyamuni.
Yesterday, His Majesty visited the Gaselo Central School and interacted with the students and teachers.
While at Gaselo, His Majesty granted Tokha to over one thousand people from the two gewogs of Gasetshogom and Gasetshowom. Prizes for lucky draw was also given to locals.
Their Majesties are on a tour of Wangdue Phodrang Dzongkhag.