Two students leave for F4F programme in Russia
Passang Dorji,Thimphu

Jun 6, 2018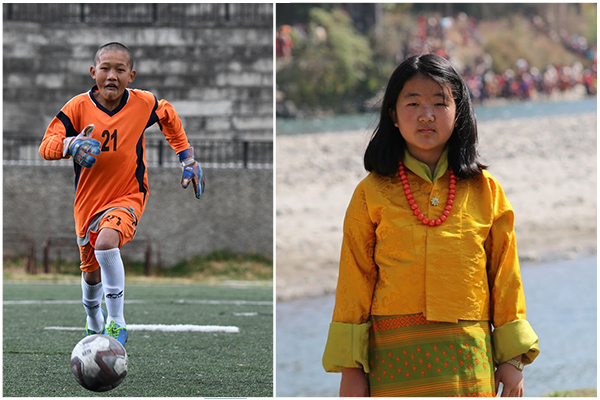 Two Bhutanese students who will be representing the country at the Football for Friendship (F4F) programme in Russia have left for the international event, today.
Rigzin Sonam Tenzin, 12, currently plays as a goal keeper for the Bhutan Under-13 football team. He will join the young footballers from around the world in Moscow. Rigzin will be a part of the 32 international teams of friendship. They will play against each other. He was selected through a lucky dip process.
"I felt extremely happy when I heard the news that I have been selected to represent Bhutan. I am travelling to Russia for the very first time and I am really excited."
Kinley Deki Yangzom, 12, a student from Lobesa Lower Secondary School had to undergo several interviews and tests before being selected to take up the responsibility of a young journalist. She will report on all local and global activities of the programme as part of the International Children's Press Centre.
"I am really excited to go to Russia because I will get to meet a lot of friends from other countries and get to watch the opening ceremony of the world cup."
Along with 210 other countries and region, Bhutan will be taking part in the international event for the first time.
The Head of Commercial and Communication from Bhutan Football Federation, Phuntsho Wangdi said, "Earlier, we did receive invitations but we did not have the resources to send our children. So we are looking forward to it and it will be a very good experience for our young players."
The F4F programme, supported by Gazprom and FIFA aims at developing youth football and healthy lifestyle as well as promoting tolerance, open-mindedness and respect of different cultures and nationalities between children from across the globe.
It is an international children's social program initiated in 2013 which includes numbers of sports and educational event.