Winners of Bhutan Coronation Marathon
Sangay Chezom, Paro

Jun 2, 2018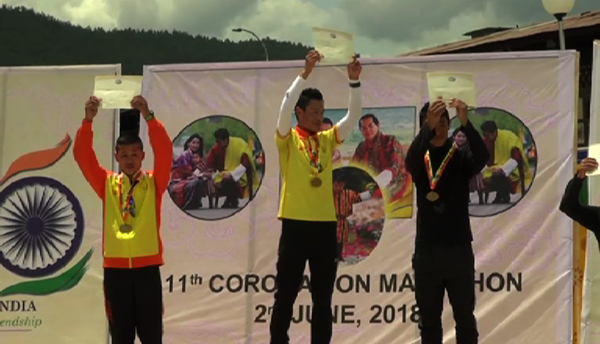 Two hundred and sixty nine runners (Bhutanese and Indian nationals) participated in the 11th Bhutan Coronation Marathon, held this afternoon in Paro.
The 23-year-old Gawa Zangpo, a serial marathoner, completed the race in 2 hour 40 minutes, securing the first position in 42 km category.
His mate Sangay, working with Royal Bhutan Army finished the race 6 minutes later and claimed the second position. And 33-year-old, Kinley Gyeltshen ended the race in 2 hour 51 minutes, coming third in 42 km category.
Sangay Wangchuk, who is famous in winning the 42 km marathon race, today ran in 21 km category and won the race. He completed the race in 1 hour and 13 minutes. Jample Choeda reached the finish line 51 seconds faster than Nima Yoezer, and booked the second position.
Has Chimi Dema not taken a bigger step and ran bit faster, Tandin Wangmo could have won the race. Stepping the finish line one second ahead of Tandin, Chimi Wangmo won the 21 km category for women. Tandin Wangmo, 17-year-old studying in Ugyen Academy, who participated in National Marathon for first time came second.
The winners were awarded cash prizes. The Bhutan Coronation Marathon is organised by Bhutan Amateur Athletic Federation in collaboration with Paro Dzongkhag Administration.