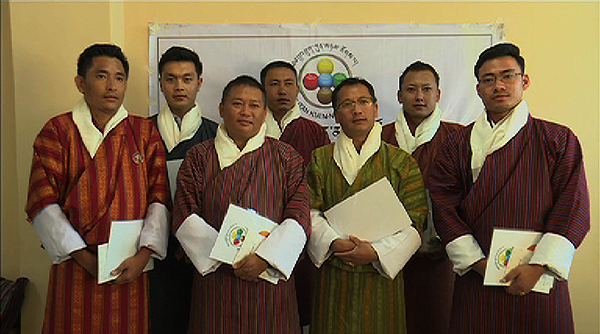 Bhutan Kuen-Nyam Party (BKP) announced seven more candidates yesterday. With this, BKP has now confirmed about 90 per cent of its candidates.
Jigmi Rinzin, a former National Council member, will represent the party from Nanong-Shumar Demkhong in Pema Gatshel. He had served two terms in the National Council.
Ugyen Tenzin will contest from Lingmukha-Toewang Demkhong in Punakha. He was a Chief Forestry Officer in Zhemgang previously.
Gaylay Jamtsho will represent BKP from Kengkhar-Weringla Demkhong in Monggar. He is a fresh graduate of Gaedu College of Business Studies.
Kinley Dorji, a former contract teacher, will represent the party from Nganglam Demkhong in Pema Gatshel.
Yeshey Jamtsho, a business man, will vie for a seat in the National Assembly from Nyisho-Saephu Demkhong in Wangdue Phodrang
Karma Galeg, a tour guide, will represent the party from Drakteng-Langthel Demkhong in Trongsa.
Thinley Gyeltshen, a businessman, will represent the party from Chumey-Ura Demkhong in Bumthang.
The Vice President of BKP, Sonam Tobgay, said the party takes inclusiveness very seriously. "As a matter of policy within Kuen-Nyam, we have reserved 30 per cent seats for women candidates and are working to fulfilling that bench mark. Similarly, for the youth, we have reserved seats of 20 per cent. So, we take inclusiveness very seriously- age differences, experience differences, future leaders in terms of how best we can we groom young members to continue the reins of Kuen-Nyam," he said.
BKP hopes to be able to confirm and announce all 47 candidates by end of this month or by mid next month.