Melong- country's children clothing line startup
Sonam Pem, Thimphu

May 27, 2018
Taking advantage of a lack of company that makes clothes for infants and children, a young mother has started the country's first-ever clothing line business.
Melong is a brand that not only sells but also designs and stitches clothes. And just like everything begins with an idea, hers started from the experience of being a young mother.
The 23-year-old Lhamo is the brain behind Melong. A small room in her house is where she creates and tailors her products. The clothing business started only in December last year, and Lhamo is already overwhelmed with orders.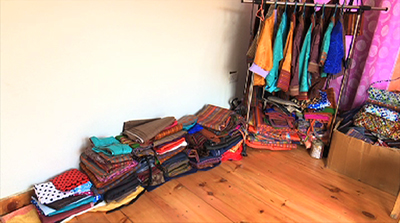 She is able to make around Nu 20,000 a month. She shares finding the right clothes for her baby was a challenge. And realising other new mothers were facing the same problems, she embarked on the entrepreneurial journey.
"I had a premature delivery and it was difficult to get clothes for my baby in the market. Then I tried to stitch a shoe for her and that's when the idea popped up of opening children's clothing line," narrated Lhamo.
She credits Loden Foundation for granting interest-free loan to support her endeavour. Her attires are manufactured in the country itself. However, like many other entrepreneurs in the country, Lhamo is also faced with challenges.
"Customers visit nearby bordering town to get the tailored clothes at a cheaper rate. And this affects my pricing. Some customers tell me they get the same tailored clothes from Jaigaon at reasonable price, continues Lhamo.
For now, she markets her products online. If her business goes well, she plans to open a showroom by making clothes in traditional and trendy styles.