Tandin Nye gets a cleanup by students of YHSS
Samten Dolkar, Thimphu

May 27, 2018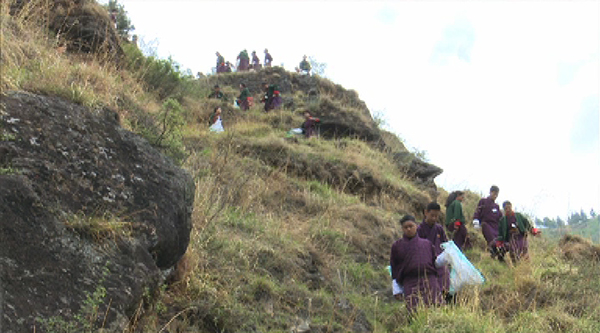 Holy sites are often conceived to be clean apart from the spiritual purity it holds. But when it comes to Samazingkha Drana Ugyen Guru Nye in Thimphu, it is entirely the opposite.
More commonly known as Tandin Ney, it is the only sacred location within Thimphu town where Guru Rinpoche is believed to have meditated. But, around this holy site, it is common to see discarded alcohol bottles, cigarette buds and contraceptives.
With only three monks in the temple, as much as cleaning the area is a concern, it is challenging too. To the rescue came about 300 students from Yangchenphug Higher Secondary School (YHSS), who cleaned up the sacred site today.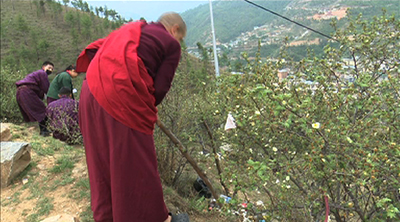 "We requested the students to help us because it's just the three of us in the temple. We can only manage to clean some part of the surrounding," said Kado, Lopen of Samazingkha Drana Ugyen Guru Nye.
He added the litterbugs are not the ones visiting the temple but those who come to the area during leisure.
Lopen Kado even went on saying that: If the temples and sacred places are not kept clean, our country will not have a good crop yield. It will not rain and there will be more of natural disasters."
Following the cleaning campaign, the students collected about 70 sacks of waste.
For now, the area is swept clean. But for how long before its sanctity is put at risk is the immediate question many ask.