PDP announces seven new candidates
Phub Gyem & Pema Seldon Tshering, Thimphu

May 24, 2018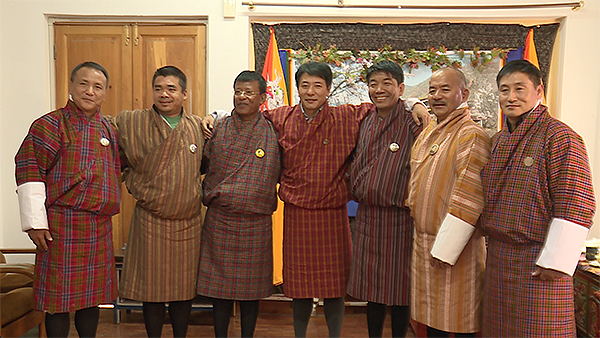 The People's Democratic Party (PDP) announced seven more candidates today of which three are replacing incumbent MPs. PDP has so far replaced seven and is seeking to replace six more.
One of the three candidates announced today who will replace an incumbent MP is former Assistant Auditor General Chandra Gurung. He is replacing labor minister Ngeema Sangay Tshempo, who is currently on a paid leave. Chandra Gurung will vie for a seat in the National Assembly from Lhamoi Dzingkha_Tashiding Demkhong in Dagana.
Former Information and Communications Minister, Nandalal Rai, is replacing serving Member of Parliament Rinzin Dorji from Shompangkha Demkhong in Sarpang.
Another former civil servant, Mani Pradhan, is replacing Madan Kumar Chhetri from Ugyentse_Yoeseltse Demkhong in Samtse.
The party's General Secretary, Sonam Jatso, said candidate selection is important as they consider candidates the party's strength.  A few of the incumbent MPs and their families were unhappy with the replacement.
"Three years ago , our President told all our serving MPs and Lyonpos that if they do not work hard, and they don't gain further support from their constituency, then we may not be able to give them ticket. Lyonchhen, our President repeated it two years ago, and last year also at the convention, he told the meeting that this is how it's going to be," Sonam Jatso said.
Meanwhile, one of the four new candidates announced today is Dr. Karma Drukpa, former Principal of Yangchenphug Higher Secondary School in Thimphu. He will represent the party from Nanong_Shumar Demkhong in Pema Gatshel.
The party also officially declared Secretary General Sonam Jatsho as its candidate from Gangzur_Minjey Demkhong in Lhuentse.
Sonam Tshering, former Gelegphu Dungpa, is representing the party from Khar_Yurung Demkhong in Pema Gatshel, while former Registrar with Khesar Gyalpo University of Medical Sciences, Dr. Tashi Tobgay, will contest from Boomdeling_Jamkhar Demkhong in Trashi Yangtse.
The party has declared a total of 16 candidates so far including the seven candidates who are replacing incumbent Members of Parliament.