RUB looks forward for collaboration with Harvard University
Sonam Choden, Thimphu

Mar 13, 2018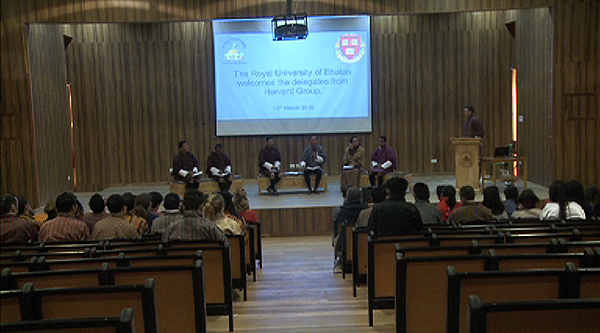 The Royal University of Bhutan (RUB) is looking at collaboration with the Harvard University in areas of research and public policies. This is the first step towards exploring academic exchange opportunities.
A group of post graduate students from the Harvard University met with the students and faculty of the Gaeddu College of Business Studies, and the College of Natural Resources in Thimphu, yesterday.
The group has 31 students from four different schools under the Harvard University and they are in Bhutan for a week-long educational tour. They are going to learn about Gross National Happiness- the country's core paradigm of development. All of them are undergoing master's degree.
"Collaboration clearly see that there are students from both sides with similar research interest. I think there is going to be follow up on the students side. Hopefully we can work on some projects and it will be great if we could get students from Bhutan coming to United States as well," said Morgan Brown, Master's Student of Harvard University.
They also interacted on various practices in the areas of international development, business management, and general academic issues. Interaction sessions with policy makers, and villagers are also included in their tour. The two universities have plans to organise such events, annually.