Inadequate irrigation water affects rice cultivation in Tang
Kipchu, Bumthang

Mar 12, 2018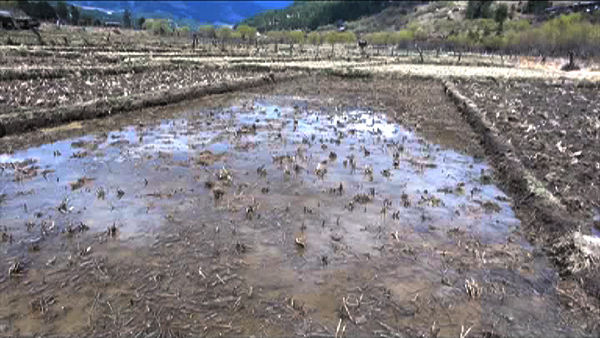 It is springtime and the beautiful Tang valley in Bumthang is bustling with agricultural works. Paddy growers in Nyimlung village are readying their fields for growing rice seedlings.
But there is something that's been weighing on the minds of the farmers. That is irrigation water. The farmers are not sure if they would have adequate water to cultivate all their rice fields.
"The water is not big enough," Dorji Tshomo, a farmer from Nyimlung village said.
Due to the shortage, the farmers take turns to divert the water to their fields. But this arrangement comes with its own share of problems.
"The fields, which are already irrigated becomes dry and seedlings wilt by the time the next round of irrigation arrives," Dorji Tshomo added.
"We planned to make more terraces for plantation, but as there isn't enough water, there is no use making them," Sonam Phuntsho, another farmer from Nyimlung said.
The problem is not confined to Nyimlung. Other villages, such as Pangshing and Bepzur, too are grappling with water shortage.
Farmers who had wanted to upscale rice cultivation are now on the verge of giving up their hopes and plans.
"We will be really grateful if the government provides us with an irrigation pipe," Pem Lhamo, a farmer from Pangshing said.
"When a neighbor cultivates, the water gets diverted to their fields. If we have enough water, we want to develop more land for paddy cultivation."
"We  share the same source with the people of Kuenzangdrag. At this time of the year, when paddy plantation is about to begin, they also need water for their grasslands. So, this adds to the problem," said Tashi Tenzin, a farmer from Bepzur.
The Gewog Agriculture Extension Officer Deki Dema said the shortage could be due to poor maintenance of the irrigation channels by the farmers and the water sources being small.
She added they have not received proposals for irrigation facilities from the farmers for the next five year plan.
Currently, about 40 acres of land in Tang Gewog are under rice cultivation.