SK Ajgar Ali from India wins 6th Indo-Bhutan Car Rally
Kinley Dem, Thimphu

Mar 12, 2018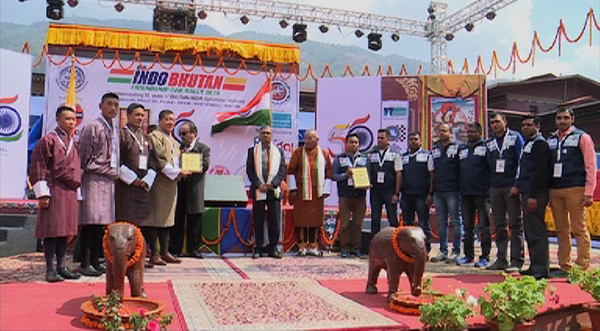 SK Ajgar Ali, with navigator M K Mohammed Musthafa from India, was declared the winner of the sixth edition of the Indo-Bhutan Car Rally that ended yesterday with prize distribution at the Clock Tower Square in Thimphu.
In the armed force category, Gopa Karma and Lt Colonel Thinley Dorji from Bhutan bagged the first prize.
About 30 participants took part in the car rally. There were four categories- Armed Force, All Women's Team, Stock and Overall.
The winner of the Overall category, SK Ajgar Ali, received a cash prize of Nu 90,000. "Indo-Bhutan car rally event is a fantastic event," SK Ajgar Ali said.
"There were very challenging routes. There were river beds, gravels, jungles and different kinds of terrains. It's a 600-kilometre event. Two things we have to keep in mind are we have to drive fast and, at the same time, save the car for two days."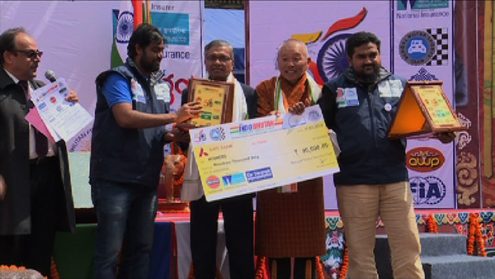 The car rally was judged based on time, speed and distance.
With ceremonial start from Guwahati, Gangtok, Kolkata, Itanagar and Phuentshogling, participants came to Siliguri from where the actual competition began.
The participants covered about 500 kilometres from Siliguri till Thimphu.
Only two Bhutanese took part in the rally this time. "This kind of rally is not popular in our country and only a few are aware of such competition," Jigme Drukpa, the Programme Secretary of the Indo-Bhutan Friendship Association said.
"The other reason is that participants have to pay an entry fee and it involves risks such as accidents."
The Indo-Bhutan car rally is a biennial event that started in 2007 in recognition of the strong bond of friendship that Bhutan and India share.
The rally, this year, also marks 50 years of diplomatic relations between the two countries. Themed 'Connecting People', the event was organized by India-Bhutan Foundation and Indo-Bhutan Friendship Association.
"It is the 50th year of diplomatic relations between the two countries and we wanted to organise an event connecting people, touching hearts," Pratim Chaudhury, the President of the Indo-Bhutan Friendship Association said.
"This event is unique in its own way. We touched all the neighbouring states of Bhutan like Arunachal Pradesh, Assam, Sikkim and West Bengal."