Gawadoong Bridge in Samtse misses completion deadline
Damcho Zam, Thimphu

Mar 8, 2018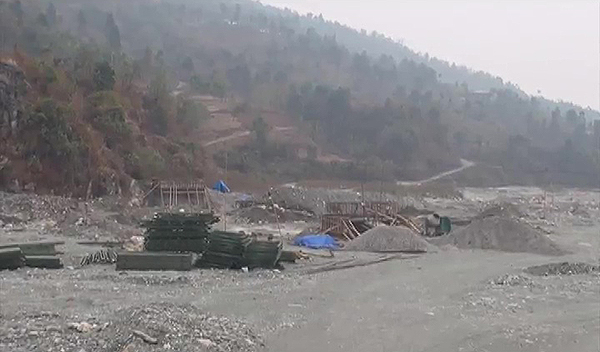 Every day is a step closer to monsoon and people of Dewathang_Lamaithang and Sa-tshamchhu_Tshongdzom Chiwogs under Samtse Gewog and Phuentshopelri Gewog are worried. The reason- a new motorable bridge being built in Gawadoong over Sukraty river, has missed its February 2018 deadline.
The people want the bridge to be ready before monsoon sets in.
The bridge will connect Phuentshopelri Gewog with the rest of Samtse dzongkhag. At present, in the absence of a bridge, the people in the Gewog travel via Indian highway to come to Samtse. But once the bridge is complete, the gewog will be connected via an internal route.
As for Dewathang_Lamaithang and Sa-tshamchhu_Tshongdzom under Samtse Gewog, the two chiwogs are located across the river. The Sukraty river separates the two chiwogs from other chiwogs in Samtse Gewog.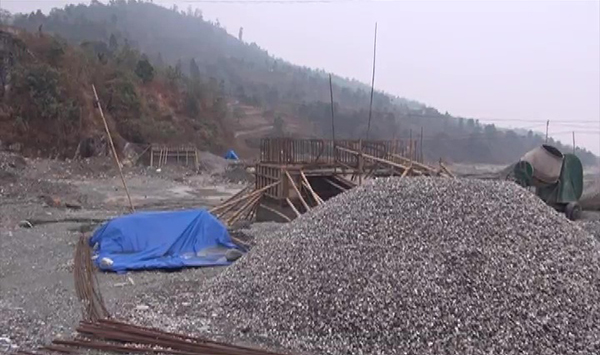 Dewathang_Lamaithang and Sa-tshamchhu_Tshongdzom chiwogs are home to over 1,700 people.
Currently, without a bridge, they remain cut off, particularly during monsoon. During dry season, it is possible to cross over but not during monsoon when the water level rises.
"When there is heavy downpour, we remain totally cut off from rest of the places," Rinchen from Gawadoong under Sa-tshamchhu_Tshongdzom of Samtse Gewog said. "We stay home until the river volume subsides. Sometimes, we have to stay without food supply."
"I think the problem will be severe this time because the river course has been dug up and soil has been piled up, which will make it difficult for us to cross across," Yonten Phuntsho, another Gawadong resident said.
"So, we would be grateful if the bridge is completed soon."
"In the past years, we, the people residing at Gawadong, had to help some officials cross the river during election," Dorji Khandu, another resident said.
"We have the National Council election coming up. So, it would be better if the bridge gets completed soon."
However, officials from the Department of Road (DoR) carrying out the construction works say some materials arrived late, which delayed the work completion.
They assured the bridge would open to traffic by mid next month. The construction of the bridge at Gawadoong began last October.