Newly constructed cattle barn for dairy group of Norboogang Gewog
Thinley Dorji, Pema Gatshel

Mar 7, 2018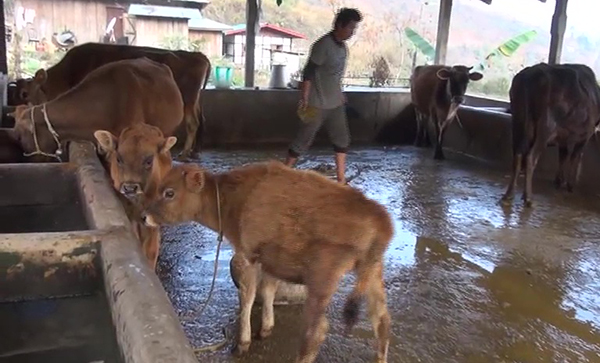 Some sixty members of Norboogang Zambala Dairy Group in Norboogang Gewog in Pema Gatshel can now improve breeding of cattle. The Dzongkhag Livestock Sector has recently constructed a concrete cattle barn for them.
Farmers said, they no longer have to let loose cattle into forest, where their lives were endangered.
"When we free cattle into the jungle, they are either harmed by wild animals or fall from the cliff and die. Sometimes, they break their legs. It is risky for the cows as well as the herder," said one of the members of Norboogang Zambala Dairy Group, Sonam Phuntsho, adding that newly complete barn has reduced cattle deaths.
Sharing similar thoughts, some other villagers said, they now keep cattle clean and free of any illness.
"If we keep cattle in unhygienic places, cattle get sick due to certain diseases. So now tethered in cattle barn, they are living in much cleaner environment," said another member, Cheten Zangmo.
Farmers' workloads have lessened as well. They mostly own jersey cows. "It is convenient in the barn. We bring fodder and feed the cattle on time. In the past it was tiresome," added Sangay Wangchu, who is also a member of the dairy group.
Production of the cattle has also improved. In a day, three jersey cows produce 300-400 litres of milk to the group.