CCTV cameras help to address waste issue in Damphu Town
Namgay Wangchuk, Tsirang

Mar 7, 2018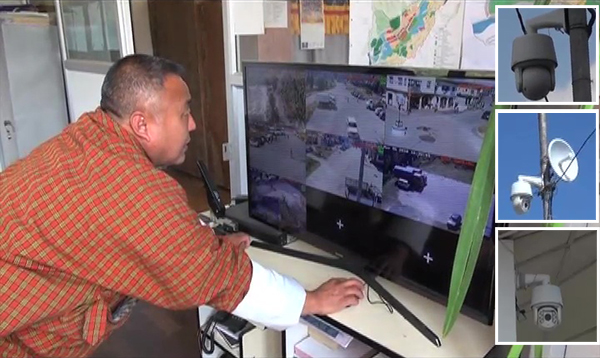 Installation of CCTV cameras in core area of Damphu Town in Tsirang has undoubtedly proven instrumental in keeping illegal dumping of waste at bay.
Illegal dumping of waste includes throwing rubbish alongside footpaths, and other open spaces in town.
Seven CCTV cameras were set up five months ago. The control monitor of camera surveillance is being handled by Damphu Municipal Office as they are the focal agency in addressing waste problems.
The Principal Engineer, Tshewang Tenzin said: "If we apprehend the culprit, then on first incident, we will in kind impose penalty of Nu 300. But if he or she is repeated offender, we will increase the fine. Again if this doesn't improve their waste literacy, we will forward the matter to court."
The digital facility of monitoring illegal waste dumpers is one of the key efforts of the municipal office to make Tsirang- a Zero Waste district by 2020. Business people in the town said, their tensions over their shops being robbed have eased.
A shopkeeper named Pema Choki told BBS News: "We no longer worry about our shop being raided by burglars if we go for long vacations. Thanks to CCTV cameras. With regard to throwing wastes in restricted areas, it has drastically reduced."
The municipal office said, waste segregation at source with strict regulations will be implemented in 12th Five-Year-Plan. They will also push interested individuals to open waste recycling units, to manage waste as well as provide employment to youth in the district.