Students who received undergraduate scholarships tested negative for drugs
Samten Dolkar, Thimphu

Mar 7, 2018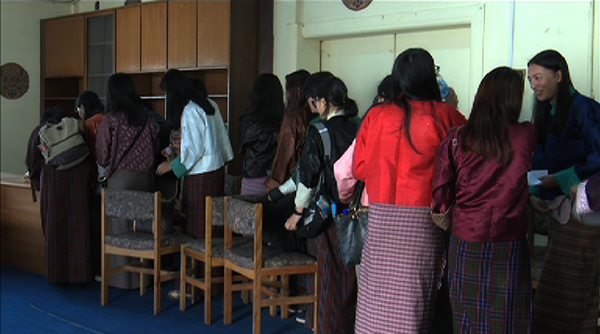 All students, who have qualified for Ex-Country and In-Country undergraduate scholarships were tested negative for drugs. This was ascertained after a drug testing programme, carried out by the Department of Adult and Higher Education (DAHE) and Bhutan Narcotics Control Authority or BNCA in Thimphu.
One hundred and eighty five students were administered a drug test for the past two days. Most of them welcomed the initiative since it is an earnest effort by the government to ensure a drug-free society.
One of the students, Karma Dema said: "When we are not abusing drugs, we will become responsible citizen, thereby become capable to serve the country. Such initiative will only discourage youth to stay away from addiction."
Others too opined that drug test will make youth more mindful of not abusing drugs and other controlled substances. "When we go to foreign colleges to study and if we are not drug abusers, we will only create good image of our country's culture," said another student, Tenzin Denkar.
According to DAHE, the initiative is in line with immigration requirement of different countries, university systems, and in support of the national effort to control drug use.
It added: "The negative drug test results were expected. If a student, who is heavily dependent on drugs, we cannot send him or her to other countries to pursue higher studies."
The undergraduate scholarships are in engineering, medical, biological sciences, and business administration and commerce among others.