Reconstruction of Wangdue Phodrang Dzong reaches midway
Komal Kharka, Wangdue Phodrang

Feb 28, 2018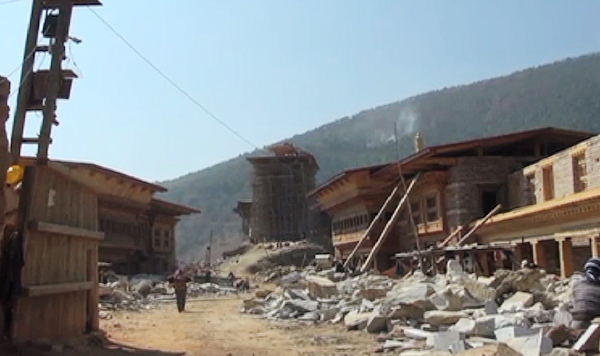 The ongoing Wangdue Phodrang Dzong Reconstruction Project has reached its midway with over 50 per cent of the works complete. The current focus is on the construction of the main tower and administrative blocks.
Along with its former aesthetic grandeur, the Utse or main tower will also be equipped with modern amenities such as earthquake resistance technology. Its roofing is expected to be complete by mid of next month.
The project officials are planning to install its Sertog, coinciding with Zhabdrung Kuchoe in April.  "We expect to complete the wood works for the roofs by day after tomorrow. We are almost ready for the installation for Sertog," said one of the workers at the site, Nima Gyeltshen.
For the administrative blocks, over 50 per cent of the construction works is complete.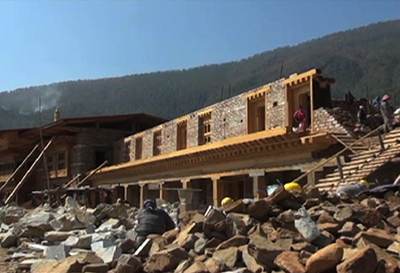 Works on the second courtyard, which will house the dhukhang and dratshang, will begin from mid of this year.
Since the works commenced in January 2014, the reconstruction works have not faced any major hindrances. However, the completion deadline had to be rescheduled from December this year to 2021 due to change in the dzong's structural design.
The Project Director of the Wangdue Dzong Reconstruction Project, Kinley Wangchuk said: "Sometimes it is windy in the afternoon which can be risky to work on the roofing works. So during that time we are involved in others works. For Utse, we have to introduce new technologies and these are no easily available in Jaigaon or Siliguri. We have to order the materials from Mumbai which is time consuming."
So far, of the Nu 1bn allocated for the reconstruction works, around Nu 480m has been spent.
The Wangdue Phodrang dzong, built over 300 years ago by Zhabdrung Ngawang Namgyal, was destroyed by a fire in June 2012.