A blacksmith proves blacksmithing is still a viable profession
Damcho Zam, Samtse

Feb 27, 2018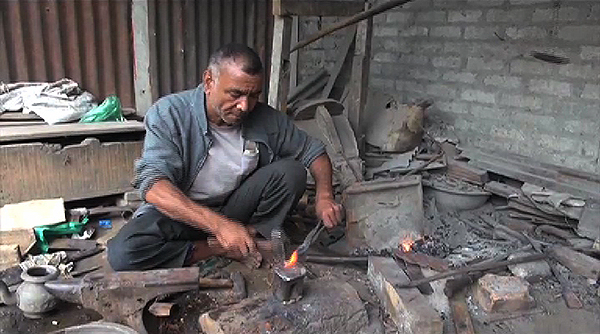 Although an art of blacksmithing is a dying profession in the country, Lok Bahadur, aged 53, in Samtse, is still devotedly engaged in this profession, dealing with metal pieces. The agricultural tools, made by him are grabbed by many famers in the district.

Lok Bahadur owns the one and only blacksmithing workshop in Samtse. He first laid his hand on the hammer and anvil when he was just nine. He learned the art of shaping farm tools out of metal pieces from his father.
He commits ten hours daily working, beating metal roads to make sickles, spades and swords among others. People from five other districts also place orders for his products.
But, he is hardly able to meet the demand due to lack of a full-time helper. Lok Bahadur's brother-in-law helps with the work occasionally, as his only son is into other business.
Through blacksmithing business, he raised and educated all his children. Lok Bahadur said: "Since we don't have much blacksmiths here, I have been trying to cater to all the farmers in my district. The dying art of blacksmithing has affected the farmers, so am doing my best to continue the business."
However, he does have apprehensions regarding the sustainability of his business. "Youth are not interested in this profession. I am afraid; there will hardly be any interested in the blacksmithing business in future."
By selling metal farm tools, Lok Bahadur earns about Nu 30,000 in a month. Since, he rarely came across any individual eager to become a blacksmith, he wants to continue his profession to keep his business afloat.