Goximbo poised to improve online hotel reservations
Sonam Choden, Thimphu

Feb 20, 2018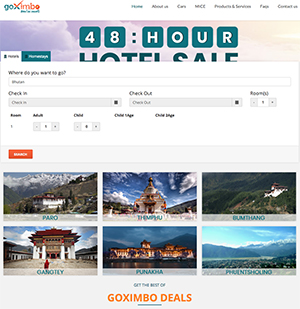 Bhutanese as well as foreigners can make online hotel reservations in Bhutan by simply logging onto Goximbo website. It is the first travel aggregator and e-commerce license holder in Bhutan, founded in November last year.
The online travel portal enables hoteliers in the country to boost their business online or in other words attracting global market. It has already partnered with 42 international online agencies and all domestic travel online agencies in India. By using Goximbo website, hotel operators will not have to login to their partnered agencies regarding reservations.
The Goximbo's Channel Manager will do all the booking since it has tied up with online travel agencies such as the booking.com, Expedia, and cleartrip.com among others. "We are giving them a platform of online solutions where they can manage their properties, reservations and push their inventories, rates across all the OTAs that hoteliers are partnered with from our dashboard in five seconds," said the Founder of Goximbo website, Kinley Rabgyel.
That aside, the online travel portal also helps hoteliers get connected with all online travel agencies if former is not partnered with the latter. After logging into Goximbo's website, the travelers will have to choose the place that they want to stay and then the details like availability of rooms and type of rooms appear on the computer screen.
"Travelers will be able to select the places like Thimphu, Paro, Punakha, and Bumthang. As per that, they can click on the name of the place and see the list of hotels available during the date of their travel,'' added Kinley Rabgyel. "So they can do instant bookings."
Once hoteliers and the clients use the website, both the parties will be informed about the reservations through their email id by the Goximbo's Channel Manager.  The website will also help in solving over and double bookings problems. It is also planning to come up with car rentals and online flight bookings in the future.