Ponies vital for income of Shermuhoong farmers
Sonam Tshering, Monggar

Feb 19, 2018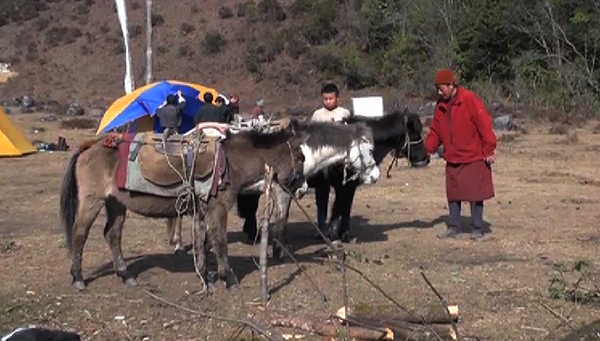 With most villages in the country having access to farm roads and motorways, using ponies as a mode of transportation is a rare practise. However, in Shermuhoong Gewog of Monggar Dzongkhag, pony transport is very much prevalent.
It is still a pivotal source of income for the farmers there. Ponies are used to carry luggage of local tourists from the nearest road point until Aja Ney (holy site) during peak pilgrimage season.
During the recent familiarisation tour led by Tourism Council to Aja Ney, nearly 20 ponies were hired to carry belongings of tourism officials, tour operators and guides. On an average, each farmer earned Nu 3000 for using pony transport for almost two-day journey from the road point till Aja Ney.
"We charge Nu 1000 per pony in a day. And to have a pony ride without luggage, we charge Nu 500 per person. I got Nu 10,000 by carrying luggage on pony for domestic tourists," said Kinga Tshering, a pony owner.
Likewise, Norbu Wangchuk, another pony owner is minting money by hiring ponies for transportation. "I have two ponies and I earn Nu 12,000-13,000 during peak visitor season. For one pony, we charge Nu 1,000 and of that Nu 100 is deposited in the group account. So remaining Nu 900 we keep in our pocket, added Norbu.
However, he shared that lack of good mule track is the biggest challenge for them. "It would be nice if we have good mule track. We cannot load pony with more luggage because of bad mule track. Some people complain that our ponies cannot carry the same weight of luggage carried by ponies in Laya and Lingzhi."
Shermuhoong Gup, Ugyen said, Nu 100,000 from the Financial Year 2017-18 has been spent for developing mule track from Khadrak till Yarab, which is almost an hour walk from the nearest road point.
The Gup further said, "Nu 1m has been allocated in the next Financial Year to resume the work from Yarab until Aja Ney."
The practise of hiring ponies for transportation came into being since four years ago. A group has also been formed to provide pony services on rotational basis during peak pilgrimage season.