Issue on Shingkhar-Gorgan bypass dominates Lhuentse DT meeting
Sonam Tshering, Monggar

Feb 14, 2018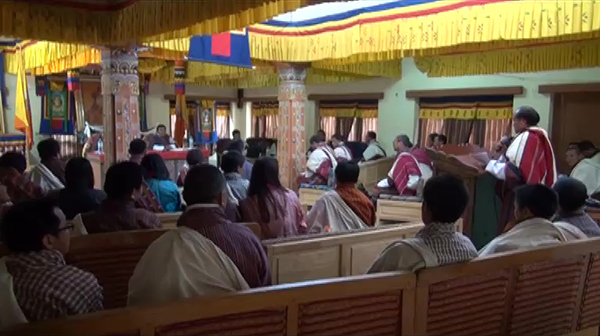 The delay in the construction of Shingkhar-Gorgan bypass between Lhuentse and Bumthang was one key issue that was elaborately discussed during the Dzongkhag Tshogdu (DT) in Lhuentse, yesterday.
After lengthy discussion, members came to the consensus that a resolution will be submitted to the Prime Minister, National Environment Commission and Parliament for review.
Local leaders said, although the National policy on environmental conservation is highly regarded, the welfare of the people should given the same importance.
"Government while framing policies on tourism discuss tourism needs to be promoted in Lhuentse. But if Shingkhar-Gorgan bypass doesn't come through, then tourism development in the dzongkhag will be a major challenge for the government," said Maedtsho Gup, Gembo.
Local Government members reiterated that bypass will be instrumental in improving the overall socio-economic status of the dzongkhag.
"The previous and the present governments have announced on National TV about the Shingkhar-Gorgan bypass project. They ask us why the project has seen of the light of the day yet. Their only hope is to witness the construction of bypass soon," told the Mangmi of Jarey Gewog, Kuenzangla.
The DT Chairperson, Kuenzang Minjur said, they have already forwarded resolutions concerning the issue to concerned ministries and agencies. "But we are yet to hear from them. During recent visit by the Prime Minister and Works and Human Settlement Minister, they said if the National Environment Commission grants environmental clearance, the govt. is ready to start the work."
The Works and Human Settlement Minister, Dorji Choden, during her visit in the dzongkhag told people that contradiction in the Environmental Impact Assessments (EIA) of whether it falls in the core area or in the multi use zone, further prolonged the start of construction works. But she said, the project is on priority list of 12th Five-Year-Plan.
The 56-kilometer long bypass will reduce the travel distance between Lhuentse and Bumthang by over 100-kilometres
The total cost of bypass road is projected to be Nu 585m.