Lag Thrams bring hopes to shopkeepers of Pungtenchhu Bazaar
Namgay Wangchuk, Tsirang

Feb 14, 2018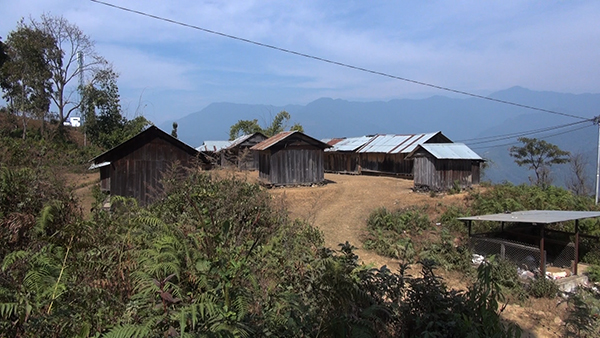 Pungtenchhu Bazaar is one of the oldest markets in Tsirang Dzongkhag. Currently, it has 18 temporary structures being operated as shops of groceries, garments, and vegetables. However, the mini market awaits a major development in near future.
The National Land Commission issued Land Ownership Certificate or Lag Thrams to 18 plot owners since two months ago. Now, they are intending to construct permanent commercial structures to boost their market. One of the shopkeepers, Tularam Ghimire, 60, recalled the state of the Pungtenchhu Bazaar in olden days.
"When I was a young boy, this bazaar was same like how it is now. But now Lag Thrams are in our hands, so we hope to see this market transform into a model town."
Other shopkeepers are also looking forward to see their bazaar undergo a makeover. "Without lag thram, we feared that one day we might not be allowed to do business here. But today, am heaving a sigh of relief as I have received lag thram. I am planning to construct permanent building," said Tara Nidi.
The bazaar is a popular shopping place for villagers of Semjong, Tsirang Toed, and Sergithang gewogs. It opens only on Sundays and this is because the road from Pungtenchhu Gewog to bazaar is not so trafficable during several months of the year. Also, considering that civil servants are off on weekends, Pungtenchhu Gewog Administration advised shopkeepers to operate business on Sundays.
"It has been 10 years since we started opening our shops on Sundays. We intend to do business daily but since we live far away from the bazaar, we can't make it daily," said another shopkeeper, Bishnu Maya Ghimire.
The gewog administration said a committee has been formed to implement developmental activities in Pungtenchhu Bazaar but their current focus is on road development.
"We are giving priority to road. In this financial year 2017-18, we will do road soling till the Lhakhang. We have awarded the work to the contractor. If we have good road, town development will naturally take shape," said the Mangmi of Pungtenchhu Gewog, Jamphel to BBS News. He also said, "they have appointed committee members to look after the town developments and now that shopkeepers have lag thrams, it is more convenient for us."
As of now, gewog has not received single applications from the plot owners to construct houses. Some plot owners who don't have business licenses are applying for one.
Pungtenchhu Bazaar is located some five kilometres away from Gewog Centre.