DPT's political motivation claims undermine government, ACC: PM
Sherub Dorji, Thimphu

Feb 13, 2018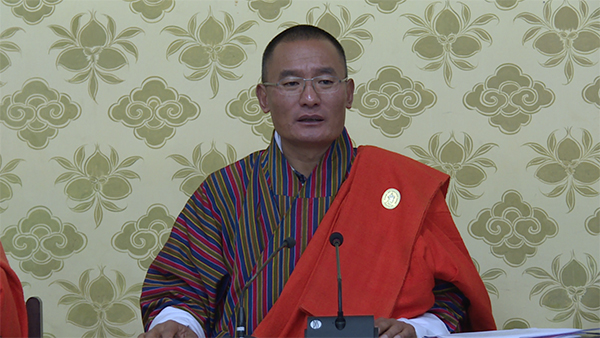 Prime Minister Dasho Tshering Tobgay says the Opposition's claims of the government being politically motivated in alleging former minister Yeshey Zimba of policy corruption undermine both the government and the Anti-Corruption Commission (ACC).
He added the Opposition is trying to divert attention of the public from the corruption scandal by mentioning about helicopters, power tillers, and central schools.
The Prime Minister said based on first impression, the government should have directed the Office of the Attorney General (OAG) to file a case in the court of law against the former works and human settlement minister Yeshey Zimba. But the government deliberately chose to send the case to the ACC to rule out any political motive.
"This politically motivated allegation is directed to the government to undermine the government," Dasho Tshering Tobgay said.
"It is also directed to ACC. This is a message to the Anti-Corruption Commission. They are almost telling the ACC you should not investigate the case because it is politically motivated."
Dasho Tshering Tobgay also said that the government is trying to fight corruption and it is wrong on the part of the Opposition to say it is setting unhealthy precedence."One case on one man and this is the repercussion," Lyonchhen said.
"Not that we are fighting corruption, not that in the future everybody will be on their toes but that the precedence is unhealthy, investor confidence is undermined, atmosphere of social distrust, disharmony, disunity."
On the Druk Phuensum Tshogpa questioning the timing of the corruption claims, the Prime Minister told the members of the media that the finance minister had pointed out the issue in August 2015.
The same issue was discussed during the 10th sitting of the Second Parliament.