Lungtenzampa Bridge to be replaced by new Flyover Bridge in 12th FYP
Pema Seldon Tshering & Kinley Dem, Thimphu

Feb 12, 2018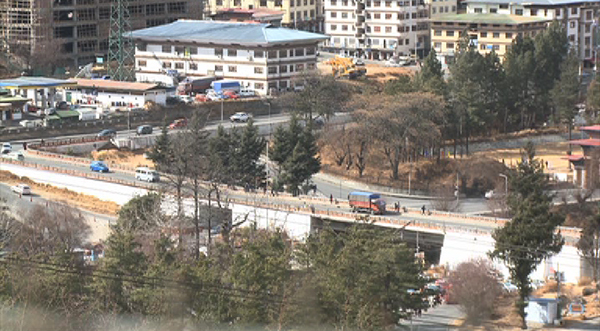 Thimphu Thromde plans to dismantle over two decade old Lungtenzampa Flyover Bridge and construct a new Flyover Bridge in the 12th Five-Year-Plan (FYP). The work will begin during the second Financial Year of the plan.
Located in the heart of Thimphu Thromde, the 23-year-old bridge does not meet the standard of modern day bridge. The bridge, also known as the 'Bridge of Prophecy,' is now riddled with numerous cracks. Add to this, the road passing the bridge is in bad state and causes inconveniences to both the motorists and pedestrians during heavy downpour season.
"These aforementioned reasons have prompted us to give key importance in rebuilding the bridge during the next FYP. The new bridge will be a double decker road bridge which will accommodate more number of vehicles," told Thimphu Thrompon, Kinlay Dorjee to BBS News, adding the new bridge will have the resilient features that would withstand earthquake and the design too will be great.
The budget estimation for the construction of the new bridge is projected to be at Nu 700-800m. Gross National Happiness Commission (GNHC) allocated Nu 2bn for the Local Government for the current (11th) FYP. In the 12th FYP, they have plans to allocated Nu 5bn for the Local Government. "So considering the importance to rebuild the bridge, we have projected that the cost might come around Nu 700-800m," added Thimphu Thrompon.
Lungtenzampa Flyover Bridge was built in 1995.