Flyover Bridge over Shetikhari River expected to be complete by this June
Karma Wangdi, Sarpang

Feb 9, 2018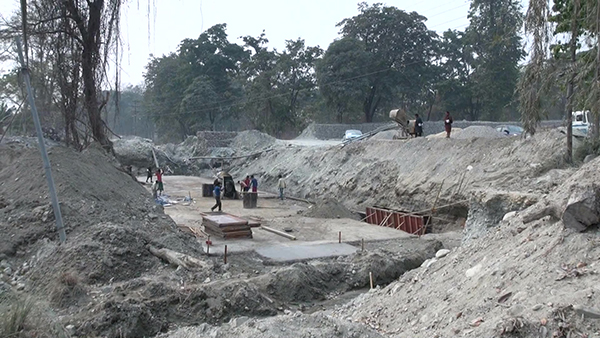 People of Pelrithang Khamaed under Gelegphu Gewog in Sarpang are heaving a sigh of relief as construction of Flyover Bridge across the Shetikhari River is underway. Every monsoon, the swelling Shetikhari River poses threat to the nearby residents and commuters along the Gelegphu-Zhemgang highway.
Once the Flyover Bridge becomes trafficable, people will no longer have to fear of swollen Shetikhari River. Otherwise, during downpour season, the river burst from the banks and floods roads and settlements downstream, endangering lives and properties.
"After the flyover bridge is built, flooding will not occur and people will not be affected," said Gelegphu Gewog Gup, Ugyen Wangchuk.
"The culvert bridge that was there in the past could not maintain the river's course because there was a partition in between. This obstructed the flow of river but the new bridge has no such limitations," said one of the locals, Mitralal.
The Department of Roads (DoR) started to construct the bridge last week but there are minor hiccups on the way. "Our main problem is the power cables. One of its poles is next to the foundation of the bridge and we need to relocate it. For that, BPC said, they will need to relocate four poles," said the Executive Engineer from DoR, Sonam Namgay Wangdi.
"The estimated cost of the relocating poles comes to Nu 3,91,000 and have deposited the money in BPC's account."
From the contractor's side efforts are put in to complete the project on time. "I am going to make it on time. Otherwise I would incur huge losses," said Kencho Tshering, the contractor.
To complete the construction of the Flyover Bridge, the government is funding Nu 14.5m.
.