Allegations against former MoWHS Minister baseless and done for political mileage: DPT
Sherub Dorji, Thimphu

Feb 8, 2018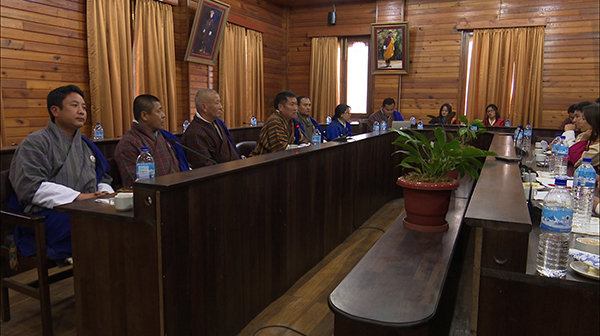 The Opposition Party, Druk Phuensum Tshogpa (DPT) said, they are utterly shocked by the government's accusations against the former Works and Human Settlement Minister, Yeshey Zimba. Opposition shared this statement while meeting with the local media houses in Thimphu, yesterday.
The party described the allegations against the former minister as baseless and purely done to gain political mileage. "It is simply an attack against an innocent individual and the party," said the Opposition Leader Dr Pema Gyamtsho.
He also clarified that former minister Yeshey Zimba, who is currently serving as the MP of South Thimphu constituency, must have declared conflict of interest only if the incentive was for his hotel Le Meridien. "There is no question of policy corruption and really surprising for us that such allegations are leveled against the party and a very prominent and respected member of our party."
The Opposition said, recommendations for additional fiscal incentives for tourist standard hotels in 2013 was done by inter-ministerial committee consisting of Ministry of Finance, Ministry of Economic Affairs, Tourism Council of Bhutan, and Hotels Association of Bhutan.
"Whatever we do, we form a committee. We formed this committee so that decisions are not made by one individual but by a group with intellect. We do that to provide transparency," said the MP of Bartsham-Shongphu constituency in Trashigang, who is the Former Finance Minister.
Disagreeing with the accusations of official misconduct against MP Yeshey Zimba, DPT justified that the former MoWHS Minister acted upon the authority given to him and performed his duty as required of him by the law.
"If you want good investments, you have to encourage investors. The incentives have been already provided to the hotels and suddenly after four or five years government says this is wrong. Such trend will discourage foreign and local investors to trust us," said MP Khandu Wangchuk of Lamgong-Wangchang constituency in Paro. "Investors will not have faith in our system of governance. Now, am concerned about small and cottage based industries."
The Opposition also pointed out that "Such wild accusation will have widespread implications".
The government, a fortnight ago, accused MP Yeshey Zimba of failing to declare conflict of interest, official misconduct, and policy corruption in relation with the fiscal incentives for tourist standard hotels, enforced at the end of the previous government's tenure in 2013.
According to the press release issued by the Prime Minister's Office on 26 January, it stated that Yeshey Zimba chaired the cabinet meeting which approved the additional fiscal incentives. The government is also alleging that the incentives were enforced days before the erstwhile government's dissolution to bypass reporting requirement to the Parliament.
During that time Le Meridien was under construction. The hotel is a FDI incorporated venture in partnership with Bhutan Hotel Limited, which is owned Yeshey Zimba's daughter.
The government has also requested the Anti-Corruption Commission to probe the case.