ECB to set up 64 postal ballot facilitation booths for upcoming NC elections
Choni Dema & Thinley Dorji, Thimphu & Pema Gatshel

Feb 6, 2018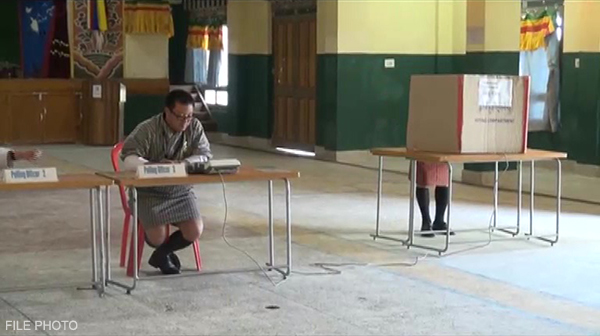 Right to vote is a fundamental human right and to make voting more convenient for the electorates, the Election Commission of Bhutan (ECB) will set up 64 postal ballot facilitation booths for the upcoming National Council (NC) elections across the country.
ECB officials shared the move is also to facilitate maximum number of postal ballot voters by simplifying the process of exercising the franchise through postal ballot. With facilitation booth in place, registered postal voters can cast their vote from the place they reside.
Along with postal ballot facilitation booth, ECB also introduced mobile facilitation booth, which is strictly meant for prisoners, patients ill for long duration, and disabled community.  But to use this voting facility, they have to be eligible registered postal voters.
ECB officials are looking forward to remarkable voter turnout for the upcoming parliamentary elections. "Facilitation booth and mobile facilitation booth are in place. Now we expect impressive voter turnout for the next election. It is simple and easier to vote now for the postal voters," said Namgay Tshering, Head of Postal Ballot Unit with ECB. "The facilitation booth will hand over the postal votes on time to the returning officers and your vote will certainly to be counted."
ECB officials said facilitation booths will be open for three days until the sixth day prior to the polls. They said that the remaining five days until the polling day is meant for distributing the postal ballot packages to all Returning Officers.
Currently, the Election Commission is in the process of educating voters on such booths. In Pema Gatshel, the people have welcomed the initiative. "For us, booth will be set up at Nganglam Central School which is going to be convenient for us. We can visit the booth and cast vote as soon as voting time opens," said an Employee of Dungsam Polymers Limited in Nganglam, Pelzang.
Voters willing to avail postal ballot services will have to fulfil the complete process of registration, application, and voting. To register for postal ballot facilitation services, a voter needs to go to the ECB website and select the dzongkhag the voter resides in.
The upcoming National Council election is likely to be held in March, this year.