Tamzhing Milk Processing Unit's sweet smell of success
Kipchu, Bumthang

Feb 5, 2018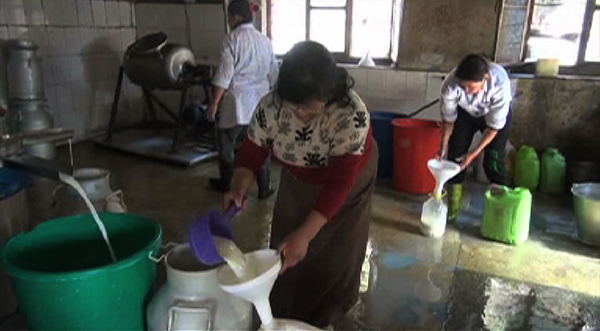 With a mere 15 members in 2004 to 65 today, the Chhoekhor Gonor Gongphel Chithuen Tshogpa, a dairy farmers' group in Tamzhing Village in Bumthang is a booming business.
The Tamzhing Milk Processing Unit has improved the livelihoods of the local community over the years. Members bring their daily milk production at the unit. The milk is then warmed and churned into producing other dairy products such as cheese, butter and whey (milk serum). Today, it produces more than 700 kilograms of butter. Same goes with butter and whey. Most of the dairy products are sold to hoteliers. However, reaching to the current standard hasn't been plain sailing for the dairy farmers' group.
"We started off the group from a small hut. We formed a small group as per the advice of the Dzongkhag Livestock Sector. Later, as we started progressing and making more money, the sector again supported us by building the Milk Processing Unit and providing us the necessary machinery," said the Chairman of the Chhoekhor Gonor Gongphel Chithuen Tshogpa, Tshering Lhendup. "We are doing well now, all thanks to Dzongkhag Livestock Sector."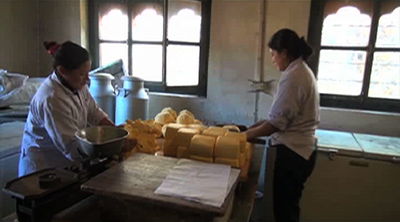 Besides milk, butter and cheese, the members also produce hard dried cheese or Chugo in local term, which is highly saleable in the market. "It's a win-win situation for the group as a whole and for the members as well. Making Chugo keeps us engaged and helps generate some income for ourselves as well as for the group," said Tshewang Dorji, one of the members from the group.
Over the years, more farmers in the locality started rearing cattle as the dairy products became easily marketable through the MPU.
"At the end of each year, the members get around Nu 8000-10,000 as bonus from the group's annual income. So, rearing cattle for the group has been really beneficial for us," said Tsheltrim Penjor, another member from the group. "I have more than fifteen Jersey cows now and I earn a decent amount of money, I will keep working as a dairy farmer even though the job is not so easy"
The group now has a mini-truck bought with the help with of the Agricultural Marketing and Cooperatives Department. It has also established an outlet in Chamkhar Town since a year ago. The unit is now planning to diversity their products by producing yogurts and ice creams.