Bhutan and India enjoy unique ties of friendship: Ambassador Jaideep Sarkar
Sonam Phuntsho, Thimphu

Jan 12, 2018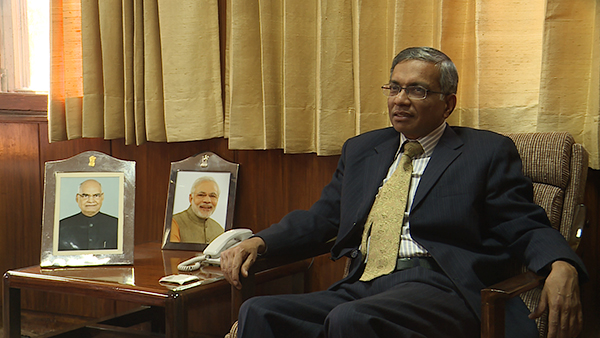 The Ambassador of India to Bhutan, Jaideep Sarkar says the relations between Bhutan and India have been unique in the history of relationships; which he credits to the great vision and wisdom of their Majesties the Kings and Indian leaderships.
The Indian Ambassador said, both the countries should continue to maintain the goodwill received as a legacy from the leaders of the past as we celebrate the 50th year of friendship.
The Ambassador also said 2018 is the landmark year in the history of relations between India and Bhutan.  It was 50 years ago when His Majesty the Third King gifted the people of India the 67 acres land for the Indian Embassy at its present location. The foundation stone for the India House Estate was laid by then Prime Minister, Indira Gandhi, during a visit to Bhutan on 4 May, 1968. Since then 50 years have passed and two countries have evolved as societies. Ambassador Jaideep Sarkar added that most importantly Bhutan and India have managed to work together and build a relation that is unique in the annals of relationship between countries.
"India and Bhutan have shown that. So very dissimilar in size can yet build a relationship of trust of mutual understanding and of mutual benefit and I think the credit for this goes to the great vision and wisdom of their Majesties the Kings of Bhutan and the Indian Leaderships who have both understood the great importance of India and Bhutan working together and indeed the legacy of historical contacts that we have had. So I think in the past 50 years our relations have grown dramatically. We are very old friends at 50s".
Speaking about the next 50 years of friendship from here, the Indian Ambassador said there is much yet to come ; reflecting on economies of the countries grappling with pressures of the globalising economy and pressure of the legitimate aspirations of voters and constituents.
He said, the task before us in the decades to come is to continue to sustain tremendous goodwill two countries share as relationships ultimately rest on the bedrock of personal friendship.
"The relationship that has been built at a personal level between the leaders of Bhutan , their majesties successive kings of Bhutan  and the Indian leadership and in going forward in the next decades. What I also hope to see is not only strong relations between the national government and leadership here but also growing relations between Bhutan and neighboring states of India. So I think that is a task where we have to devote more energy," added the Ambassador of India to Bhutan.
However, he said, two countries working together can not only be a model for how to cooperate in South Asia but also working to create ties of interdependence which serve the interest of people at large.