Bhutan & India jointly unveil 'Special Logo' to mark 50 years of bilateral ties
Sonam Phuntsho & Sherub Dorji, Thimphu

Jan 12, 2018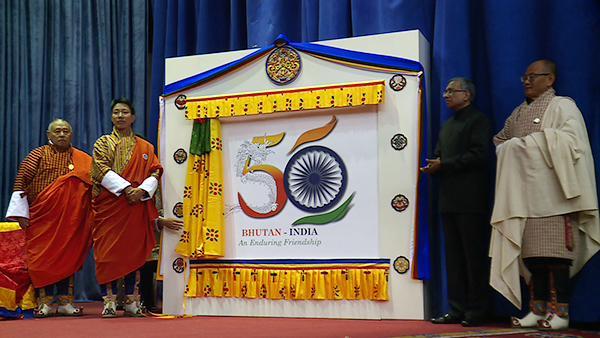 Bhutan and India celebrate 50 years of friendship this year. To commemorate the golden jubilee, a special logo was jointly launched in Thimphu and New Delhi, today.
The Foreign Minister, Damcho Dorji and India's External Affairs Minister, Sushma Swaraj, jointly unveiled the logo in Thimphu and New Delhi through video-conference. The two countries established a formal diplomatic relations in 1968 with the appointment of a resident representative of India in Thimphu.
Meshed together in an unbreakable bond, the logo has two symbols of the countries- 5 is represented with Bhutan's national color wrapped in dragon; while 0 (zero) is completed by the India's tri-color.  It highlights 50th anniversary of friendship.
In his remarks on the occasion, Foreign Minister said, this half a century journey of friendship of mutual trust and cooperation is a standout model for the international relations. He added the golden jubilee is also an opportunity to celebrate the stories of mutual partnership and friendship between Bhutan and India for progressive future. "I believe that the golden jubilee anniversary is not only an occasion to celebrate the important milestone in our enduring friendship but it is also an opportunity to look at the future of our ever growing  bilateral ties and partnership on the  premise of goodwill and excellent cooperation for the peace and prosperity of our people."
The Foreign Minister also conveyed the deep gratitude from people of Bhutan for India's friendship and cooperation to external Affairs Minister. He said that the special ties of friendship and cooperation between the two countries would grow from strength to strength as people from both sides continue to enjoy peace, progress, and prosperity.
To mark this milestone, besides high-level exchanges, both Bhutan and India have planned series of special commemorative initiatives, cultural activities, exhibitions and seminar throughout the year.  Under the special command of His Majesty The King, the National Organising Committee has been formed to coordinate the successful celebrations of the golden jubilee.