Health ministry receives outdoor gym and other equipment
Pema Seldon Tshering & Tshering Dendup, Thimphu

Jan 12, 2018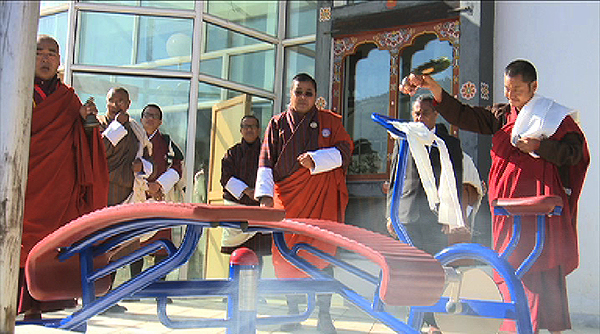 The health ministry's drive to promote healthy lifestyle received further impetus with the World Health Organization (WHO) providing a refrigerated van, outdoor gym and laboratory equipment.
The WHO handed over the equipment yesterday.
The healthy lifestyle drive is prompted by growing concerns over non-communicable diseases. A survey conducted in 2014 indicated that 39 per cent of Bhutanese were overweight or obese, while 35.7 per cent had high blood pressure.
The survey also showed that 49 per cent were not engaged in any vigorous physical activity.
Considering physical activity as one of the most cost effective interventions, the health ministry has, so far, procured Nu 24 m worth of outdoor gym equipment with support from the WHO. The equipment was distributed across the country.
"The number of people suffering from non-communicable diseases is increasing by the year and that's why exercise and physical activities are important," said Health Minister Tandin Wangchuk.
The refrigerated van will help in keeping vaccines at the required temperature.
This year, the health ministry will also focus on coming up with open gyms at the monastic institutions considering the sedentary lifestyle that monks live. In line with this, the ministry signed memorandum of understanding with various monastic institutions yesterday.