Laya LSS organises educational tour to reduce dropout rate
Sherub Dorji, Thimphu

Jan 3, 2018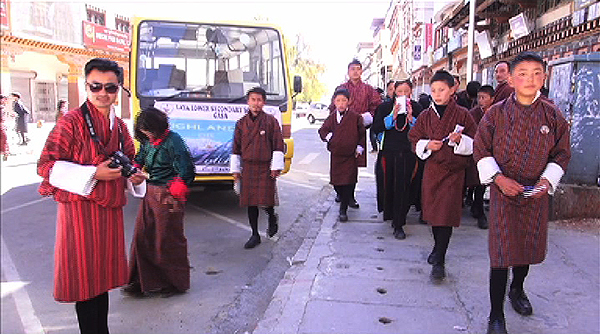 A group of 15 students from Laya Lower Secondary School are in Thimphu on a seven-day educational tour. The tour- seemingly fun and ordinary- actually aims at achieving something bigger. That is to reverse the school's dropout rate.
The number of children leaving school has been on the rise in Laya. Last year alone, ten students left school. The educational tour is one of the steps towards student retention.
School authorities hope the tour will encourage children to continue studies. "Another objective behind this tour is to motivate them to learn," Thinley Rabgay, a teacher said. "Motivate them as well as other students who didn't get to come here."
The tour has proved to be a valuable opportunity for the fifteen students, aged 10 to 17, to learn what's outside of textbooks and experience city life. Students who managed 60 per cent and above, and others from economically disadvantaged background, were selected for the trip.
The group took Driglam Namzha class on Monday.  Yesterday, they got to learn about crimes and crime prevention methods from the police. They were also briefed about traffic rules and regulations.
"I got to learn so many new things," Sonam Peldon said. "For instance, things like traffic rules. I knew nothing about it before."
"I can't wait to share my experiences and all the other things I am learning with my friends back in Laya," Leki Wangchuk said.
While on the tour, the students will try their hands at computers, listen to inspirational talks, visit lhakhangs, and meet with the education minister.
It is hoped the trip will go a long way in preventing the children in Laya from leaving school.