Lauri Gewog lists building farm roads as top priority in 12th FYP
Kinley Wangchuk, Samdrup Jongkhar

Dec 22, 2017
Lauri Gewog administration in Samdrup Jongkhar will accord highest priority to construction of farm roads in the 12th Five-Year-Plan (FYP). Even in the current plan, more than half of the total gewog budget was used for funding farm road construction projects.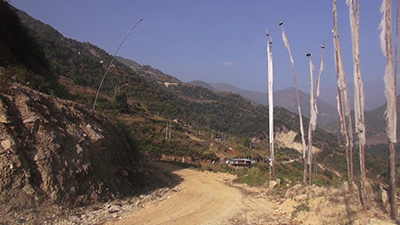 After the gewog was connected with a Gewog Centre or GC road in 2015, the gewog officials gave more importance on farm road construction in the villages. Of the gewog's overall budget of Nu 56 m, Nu 30 m was spent for clearing 25 kilometres of farm roads. Gewog officials said this was done mainly to accelerate socio-economic development in the villages.
"Lauri Gewog is one of the most remote gewogs in Samdrup Jongkhar. Villages do not have motor-able road," told Tenzin, the gewog's Mangmi to BBS Reporter, Kinley Wangchuk, who recently visited the gewog.
Currently, of the five chiwogs in the gewog, Lauri chiwog was recently connected with a farm road while farm road to Gonong-Zangthig and Tshothang chiwogs are under construction.
"Before, we walked three to four days from Daifirm to reach our village. It was terrible experience, carrying things on back. But now, we heaved a sigh of relief that a road has finally reached our chiwog," said Chesung Dirji, a villager from Lauri Gewog.
For Betsheling-Doongmanma and Momring-Rolnang chiwogs, the gewog has plans to construct farm road in the next five year plan (12th Five-Year-Plan).  Lauri Gewog is the least developed gewog in Samdrup Jongkhar, with the population of 4500.